3D Printed Prosthetics in the Developing World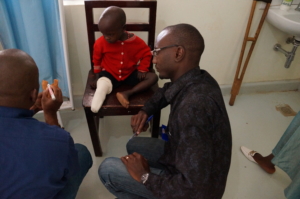 In developing nations around the world, communities experience congenital disabilities and accidents, just like in the developed world. In impoverished countries, however, the ability to access prosthetics is uncommon, if not nonexistent. If impoverished nations were able to obtain inexpensive prosthetics, it would change their lives. Fortunately, scientists and inventors alike are working out the situation. This is why 3D printed prosthetics could change the developing world.
The Problem
The World Health Organization (WHO) reports that approximately 30 million people worldwide need prosthetics or various orthotic devices. The lack of access leaves a whole array of issues for people. According to Access Prosthetics, 30 percent of amputees and congenital amputees experience depression and/or anxiety. These 3D printed prosthetics can change the developing world, making it easier for disabled individuals to perform necessary actions and increasing their quality of life.
In poverty-stricken nations, people face a dangerous threat: explosives. The Guardian told the story of one boy who Sudanese soldiers kidnapped and forced to fight. One day, the boy stepped on a mine and the mere force of the impact was strong enough to tear his foot from his leg. From that day forward, the child used a wheelchair and a prosthetic leg. Unfortunately, too many people experience what this child suffered. This child was lucky that the Kenyan Red Cross organization was able to produce a prosthetic limb for the child, but unfortunately, many people cannot receive such care.
Why 3D Printed Prosthetics?
Along with the emotional hindrances and physical limitations, 3D prosthetics are a much better option than traditional prosthetics. Traditional prosthetics comprise of metal, plastic and other materials, and cost between $5,000 to $50,000. Reaching the price of a luxury car, many families cannot afford traditional prosthetics. Traditional prosthetics typically take upwards of three weeks to reach their recipient, which includes production and fitting. The long wait time only puts the recipient in a worse position because sometimes these prosthetics are life-saving.
These 3D printed prosthetics, however, could fix this issue. Typically, producers can make 3D printed prosthetics within a single day at a shocking $50. With a drastically low upfront cost and production time, these are essential to why 3D printed prosthetics can change the developing world. Thanks to incredible advancements in the industry, it is not an if, but rather when 3D prosthetics will reach developing nations on a mass scale.
Enabling the Future
Enabling the Future is a humanitarian organization that consists of volunteers who use 3D printers to produce prosthetics for free. The network makes it explicitly clear that it is not a company and does not sell the prosthetics. With over 3,300 3D printer volunteers, the organization helps thousands of people around the world. Enabling the Future has run into durability issues in its past because volunteers print the products rather than professionals. However, they still offer some of the cheapest and quickly made prosthetics. After Enabling the Future first noted the problem, it decided to offer a different material to make the prosthetics. This material is much stronger but costs up to $2,000.
With an enormous team of 3,300, Enabling the Future is at the forefront of the production of 3D prosthetics. This organization is able to provide cheap prosthetics to people worldwide and at a much faster rate than many other organizations can. Companies such as Enabling the Future are critical to the success of equipping developing nations with 3D prosthetics.
The Impact
The capability for amputees to access inexpensive prosthetics will change the world. The ability to carry items or run may seem simple, but the reality is that most take these actions for granted. People with missing limbs can now perform actions that were once challenging, effortlessly. In the developed world, $50,000 is an extremely steep investment but can make a large impact in impoverished countries.
In developing, war-torn nations, many share the same story as that of the boy mentioned above. Too many people die from such instances and many more lose limbs. Thankfully, thanks to 3D prosthetics, the world should change for the better.
– Cleveland Lewis
Photo: Flickr
https://borgenproject.org/wp-content/uploads/logo.jpg
0
0
Jennifer Philipp
https://borgenproject.org/wp-content/uploads/logo.jpg
Jennifer Philipp
2020-05-16 01:30:05
2020-05-13 08:44:44
3D Printed Prosthetics in the Developing World