Why Foreign Aid is Important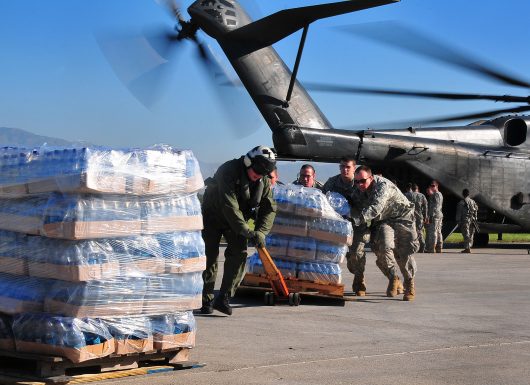 Here at The Borgen Project, we are often asked why foreign aid is important. Foreign aid can save the lives of millions of people living in poverty around the world. It addresses issues such as health, education, infrastructure and humanitarian emergencies.
Foreign aid is a broad term. In a wide sense, it can be defined as "financial or technical help given by one country's government to another country to assist social and economic development or to respond to a disaster in a receiving country."
2 Ways Foreign Aid Helps the U.S.
There are numerous reasons why foreign aid is important to help impoverished countries; discussed below are the six key targets.
Top 6 Benefits of Foreign Aid
Infrastructure: roads, bridges, institutions and sewer systems get built, giving people the ability to be mobile and have access to basic necessities such as electricity and running water.
Agricultural technology improvements: improvements enter the infrastructure within the agricultural businesses within recipient countries.
Education: classrooms get built, teachers receive training and children gain basic educational needs.
Health: vaccinations, mosquito nets, safe drinking water, access to hygiene education and basic sanitation are all brought in.
Humanitarian issues and natural disaster emergencies: life-saving support comes to those affected and possibly displaced due to natural disasters, emergency shelters are built for people affected by violence, and counseling services are made available.
National security: recipient countries can combat terrorism with the help of foreign aid as it decreases poverty, weak institutions and corruption and can help strengthen good governance, transparency and the economy.
Another reason why foreign aid is important is how it fosters a conducive diplomatic relationship between the donor and the recipient.
Impoverished nations receiving aid can eventually become independent and move towards democratic fundamentals with the help of donor countries.
There are hundreds of different donors of foreign aid. One of the most well-known donors of foreign aid comes in the form of Official Development Assistance (ODA).
It is provided by the Development Assistance Committee of the Organization for Economic Development Cooperation. The ODA provides foreign aid to poor countries in the form of grants and loans.
The ODA is important to impoverished countries as it provides specifically the materials needed to build effective infrastructure and expand educational programs and the access to schools. Additionally, it provides efficient responses to humanitarian emergencies.
One of the most well-known and largest providers of foreign aid is the International Development Association (IDA), which is part of the World Bank. It has 173 shareholders that provide grants and loans to 77 countries around the world, 39 of which are located in Africa.
The main goal of the IDA is to reduce inequalities, increase economic growth and improve the living conditions of those in poverty. These goals are addressed as IDA funds are given directly to the sectors of education, water, sanitation, agriculture and infrastructure.
The IDA provides little to no interest on its grants and loans and allows for a grace period of up to 10 years. It also allows the recipient country to make debt payments of up to 40 years.
Since 1960, the IDA has provided $312 billion in investments in 112 impoverished nations. In the last three years alone, there has been an average of $19 billion in grants and loans.
Foreign aid truly makes a difference to people living in poverty. It provides access to basic necessities and provides people essential conditions for living a peaceful and secure life.
– Kimber Kraus
Photo: U.S. Navy
https://borgenproject.org/wp-content/uploads/logo.jpg
0
0
Borgen Project
https://borgenproject.org/wp-content/uploads/logo.jpg
Borgen Project
2016-07-25 01:30:41
2020-06-18 13:05:54
Why Foreign Aid is Important