Top 10 Facts about Girls' Education in Mexico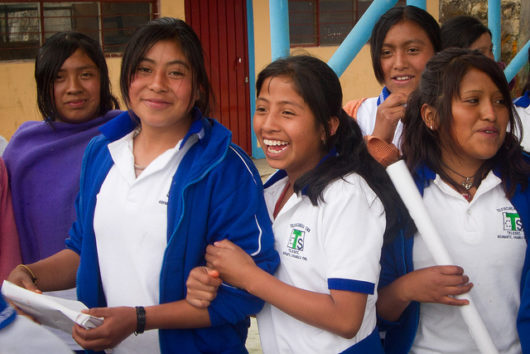 Educating girls is known to boost the economy and social development indicators. When a girl is more educated, she is more likely to have fewer children, work full-time, have an increased life expectancy and her children are less likely to die young. In developing countries like Mexico, issues like these are of the utmost importance for the development of the country. In the text below, top 10 facts about girls' education in Mexico are presented.
Top 10 Facts about Girls' Education in Mexico
Mexico mandates free primary and secondary education for children. After secondary school, students can choose between college and technical school. Women tend to outnumber men in technical schools.
Mexican girls who live in rural areas tend to be less educated than their male counterparts. This is because of the prevalence of poverty, a marked lack of access to health care and social services and inadequate infrastructure provisions such as roads, water systems and telephone services. Parents might also be more reluctant to educate their daughters due to the cultural priority placed on getting married.
Many girls in Mexico get married young, leading them to have many children instead of staying in school. The BBC reported that more than 320,000 girls between the ages of 12 and 17 were cohabiting with a man. More than 80 percent of these girls who were formally married left school. More than 90 percent of those who lived informally with the man dropped out of school.
Although the literacy rate for women between the ages of 15 and 24 years old is 98.5 percent, women still overwhelmingly carry the burden of household chores and looking after children instead of pursuing higher education or advancing in their careers. Most girls drop out of school and become housewives instead of being incorporated into the workforce.
Indigenous girls in Mexico face perhaps the most barriers to the attainment of even advanced primary level education. The poverty of many indigenous families conditions them to view their daughters, let alone their education, as a heavy economic burden. Mayan girls usually help with their parents' income through agricultural work and household chores. Thus, they must drop out of school in the early stages.
Although there are scholarships and programs to alleviate the cost of their daughters' educations, many parents aren't aware of them. There is a clear informational asymmetry regarding this question. Even if the parents did know of the existence of these programs and scholarships, they would not know how to apply for them.
Indigenous girls also face a language barrier when learning the national curriculum. For example, girls from the Yucatan Maya community speak the Mayan language but are taught in Spanish. For this reason, they participate minimally in class and are often overlooked by teachers.
Some Mayan girls report facing discrimination from their teachers and peers at school that obviously hinders their education. During interviews researchers conducted with some Mayan girls, they expressed feeling humiliated and discouraged when their classmates and even teachers called them derogatory names related to being darker-skinned or having trouble speaking Spanish.
Rural Mexican girls have difficulty getting to school safely because of how remote their villages are. Unpredictable transportation often means walking long distances in desolate areas, leaving girls exposed to threats of physical or sexual violence on the roads.
Mexico is a member of the United Nations Girls' Education Initiative (UNGEI). This initiative is committed to narrowing the gender gap in education through the enhanced focus on marginalized and excluded groups, reduction, or in best case elimination, of school-related gender violence and improved learning outcomes for girls.
Mexico still has a long way to go before it eliminates the drastic gender gap in education, particularly for rural and indigenous women. However, with efforts such as the UNGEI, the situation appears hopeful and is changing for the better.
– Maneesha Khalae
https://borgenproject.org/wp-content/uploads/logo.jpg
0
0
Kim Thelwell
https://borgenproject.org/wp-content/uploads/logo.jpg
Kim Thelwell
2018-10-31 01:30:47
2019-08-14 09:59:59
Top 10 Facts about Girls' Education in Mexico