The World's Most Oppressed People: The Rohingya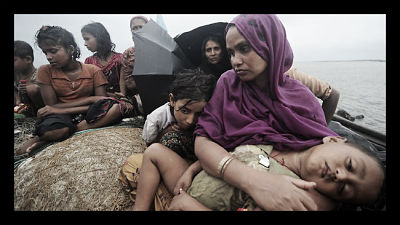 The Rohingya people represent a small Muslim minority in the Southeast Asian country of Myanmar. They are denied citizenship, forbidden from colleges, and have suffered mass killings and violence that the government has done nothing to halt. And recently, Myanmar passed a law restricting Rohingya childbirths, an action which may qualify as an act of genocide.
The Rohingya people have lived in Myanmar since the eighth century. However, their existence was wiped from official record in 1982 with the passage of a citizenship law. The law had the effect of making the Rohingya stateless peoples, illegal immigrants in their own country, with no rights or international recognition.
Rohingya people have experienced harsh violence and now will suffer an enforced two-child limit. The limitation is officially claimed as an effort to ease tensions between the Buddhist majority and Muslim minority, however the policy serves as a frightening indicator that genocide may not be far away. Genocide Watch has even gone so far as to issue a "Genocide Emergency Alert" for Myanmar, and the United Nations has also expressed similar concerns.
Genocide Watch breaks down genocides into eight distinct stages. In order, they are as follows: Classification, Symbolization, Dehumanization, Organization, Polarization, Preparation, Extermination and Denial. Myanmar is quickly ticking stages off the list.
Rohingya people are regularly forced to live in ethnic enclaves with enforced curfews. They experience intense violence which the government has done little if anything to prevent. They are becoming increasingly isolated from resources and from the outside world. If nothing is done to stop these policies, the Rohingya may be removed entirely from their country. The international community must act now to hold the Burmese government responsible and stop the eradication of the Rohingya ethnic group before it is too late.
-Caitlin Zusy
Sources: UN Dispatch, News.com
Photo: News.com
https://borgenproject.org/wp-content/uploads/logo.jpg
0
0
Borgen Project
https://borgenproject.org/wp-content/uploads/logo.jpg
Borgen Project
2013-07-13 06:59:01
2020-05-14 10:54:59
The World's Most Oppressed People: The Rohingya