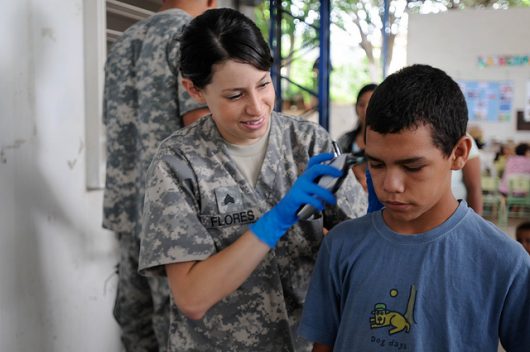 Four-hundred and sixty-six million people worldwide are affected by hearing loss. While this figure does include the occasional grandpa, the majority of those affected live in low and middle-income countries. In developing nations, it is uncommon for hearing disabled children to be enrolled in school or for hearing disabled adults to find employment. The Starkey Hearing Foundation is working to change this, and here's how. 
So the World May Hear
William F. Austin started the
Starkey
Hearing Foundation in 1984 for one simple reason:
So the World May Hear
. The foundation has followed this mission for over 30 years through collaboration with NGOs, governmental agencies and health leaders in more than 100 countries. While much of the work that the
Starkey
Hearing Foundation does is in service delivery, combating hearing loss also requires education and advocacy efforts. By providing services in each of these categories, the foundation has been able to deliver
1.9 million hearing aids
across the globe.
Providing Life-Changing Equipment
While the majority of those who are hearing disabled live in the developing world, less than 3 percent of them can afford or have access to hearing health care. The Starkey Hearing Foundation's solution to this problem goes beyond simply putting a bandaid over the wound. Their model is community-based, creating sustainable hearing healthcare through local teams and partnerships.
First, the foundation identifies an area in need. After local health workers are educated and trained, then communities begin to receive hearing aids. During this phase, the foundation also works to educate patients and their families and communities about hearing health care. Monthly aftercare services are provided at a central location that also offers free repair and replacement for damaged hearing aids. Finally, the foundation works to foster self-reliance in their patients by employing speech-language pathologists to track the progress of those who have received aid. The follow-up that this model provides ensures that impoverished people who are affected by hearing loss can continue to have access to the care they need for the rest of their lives.
How Individuals Can Help
The Starkey Hearing Foundation's "Hear Now" program is a recycling initiative that makes it easy to get involved by donating old hearing aids, or even parts of old hearing aids. This program collects about 60,000 hearing aids per year which are then restored and redistributed to those who need them most.
If you don't have a hearing aid or know anyone who does, you can still get involved by visiting the Starkey Hearing Foundation's donation page. The page is extremely user-friendly and includes a guide showing what a given donated amount of money can do. For example, a $20 donation can provide one mold for a hearing aid, and a $70 donation will pay for a hearing aid replacement.
– Ryley Bright
Photo: Flickr
https://borgenproject.org/wp-content/uploads/The_Borgen_Project_Logo_small.jpg
0
0
Borgen Project
https://borgenproject.org/wp-content/uploads/The_Borgen_Project_Logo_small.jpg
Borgen Project
2019-07-18 01:30:58
2019-07-18 07:21:25
How the Starkey Hearing Foundation is Changing Impoverished Lives