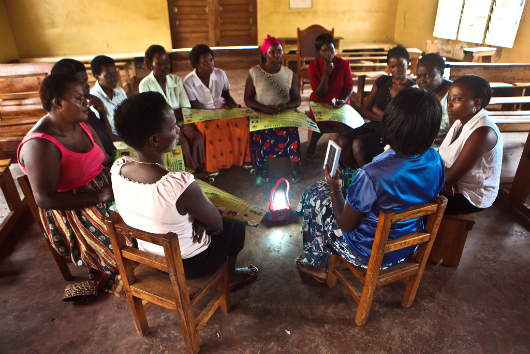 At a time when only 24 percent of sub-Saharan Africa has access to electricity, the grassroots organization Solar Sister is taking a woman-centered approach to ending energy poverty in the region.
Solar Sister works at the community level to provide access to clean energy sources such as solar lanterns. By training and supporting women as they build their own businesses, the organization helps families in rural East Africa become more self-sufficient.
For $500, Solar Sister can provide a woman with a full lamp inventory, called a "business in a bag." Using an Avon distribution model, the entrepreneur goes door to door, selling solar lights and other green technologies to neighbors and family members. She earns a commission on all products sold, which she can use to supplement her family's income and expand her business.
Katherine Lucey, founder of Solar Sister, says that energy access is necessary for economic growth. With light, people can continue to work after dark and increase their productivity; children can study for longer and do better in school. Those without electricity are therefore at a disadvantage, trapped in poverty.
For this reason, Solar Sister focuses its work in places like rural Uganda, where close to 95 percent of the population lacks access to electricity. In communities that are far from the electrical grid, people depend on kerosene lamps for light. Using kerosene is not only expensive, but also dangerous, since lamps can emit toxic fumes.
Before founding Solar Sister in 2009, Lucey worked for a nonprofit on large-scale solar power projects. When she realized that these projects were doing little to help those living in poverty, she decided to try a new approach.
"The technology that we were using – the solar panel, the PVC, etc., was very 'techie,'" Lucey explains. "And we were in homes where there was no technology. So, the women didn't have a comfort zone with the technology."
Solar Sister's products, on the other hand, are simple to use: the solar lanterns charge outside during the day, then provide light at night with the flip of a switch. The lights, which have 10-year lifespans, cost between $15 and $50. Compared to the price of kerosene, which costs around $2 a week, the light pays for itself in a matter of months.
The money a woman earns from selling these products provides her and her family with more economic freedom. Mityana, a Solar Sister entrepreneur from central Uganda, says "It makes me feel proud to see that I'm bringing an income to my family." So far, the organization has partnered with over 1,000 women entrepreneurs to bring clean energy to more than 180,000 people in East Africa.
Lucey notes that in almost all cases, the women use their earnings to provide education for their children. She hopes that this new, educated generation will help lift rural communities out of poverty.
– Caitlin Harrison
Sources: CNN, CS Monitor, USAID, World Bank
Photo: World Bank