Seven Facts About Hunger in Peru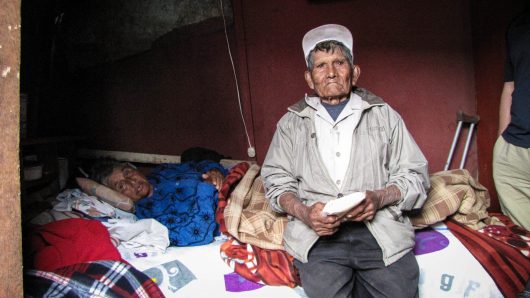 In the South American country of Peru, culture runs deep. From the Andes to the Amazon rainforest, nearly half of the Peruvian population is of indigenous descent. Many of these people still hold ancestral beliefs and even practice traditional Incan medicine. Unfortunately, even the strongest Peruvian medicine men are not immune to the effects of hunger.
Here is a list of facts about hunger in Peru:
1. Up to 5.2 million Peruvians are vulnerable to food insecurity.
Food insecurity occurs when there is unreliable access to an affordable, nutritious food source. This can be caused by recurrent natural disasters, international commodity market fluctuations or limited purchasing power.
2. Peru is prone to natural disasters.
Whether a flood, drought or earthquake, it could happen in Peru. All of these disasters can destroy crops and cause people to lose access to food sources, significantly affecting nutrition.
3. El Niño is no friend to Peru.
Occurring between every three and seven years, El Niño has a warming effect. This warming causes fish stocks that Peru relies on to fall. Additionally, the weather pattern causes a variety of other natural disasters like droughts or severe flooding. According to the World Food Programme (WFP), these disasters can reduce Peru's economy by up to five percent, drastically lowering the nutritional status of many citizens.
4. Cold waves are equally damaging.
With yearly cold waves come the deaths of not only hundreds of thousands of livestock, but crops and even people. These losses decrease the availability of food and labor and increase hunger in Peru.
5. Malnutrition affects 500,000 children in Peru.
Despite significant improvement in recent years, certain rural areas still see malnutrition rates of up to 35 percent of children under five years old.
6. Anemia may be just as prevalent.
Up to 46 percent of Peruvian children under the age of three years old are affected by anemia. Both malnutrition and anemia are products of widespread insufficient access to food, unhealthy eating patterns, lack of childcare, improper nutrition and low education levels.
7. The WFP is taking action to fight hunger in Peru.
Rather than providing food or money assistance to Peru, the WFP is now providing support to the government in order to implement food and nutrition programs as well as protect and strengthen current food security. A few of the ways these measures are being executed include advising school nutrition and meal planning, emergency response assistance and planning, and public education of ways to fight anemia in communities.
Hunger in Peru does not have to be devastating, and it is likely that with help from organizations like the WFP, Peru can make a strong comeback in the fight against hunger and its causes.
– Weston Northrop
Photo: Flickr
https://borgenproject.org/wp-content/uploads/logo.jpg
0
0
Borgen Project
https://borgenproject.org/wp-content/uploads/logo.jpg
Borgen Project
2016-09-24 01:30:09
2020-06-11 21:31:43
Seven Facts About Hunger in Peru