Makeshift School Serves Calais Refugees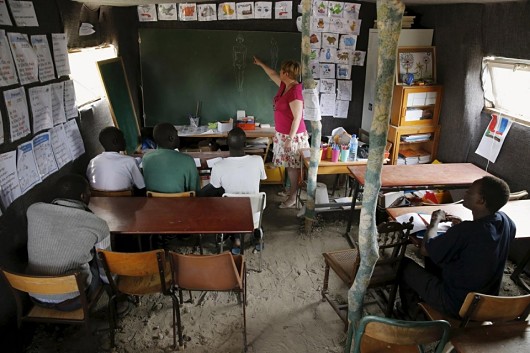 When refugees imagine the amount of time they will be living in an encampment, they probably do not anticipate staying long — their minds already drift to a possible future beyond the camp's makeshift walls.
However, as more refugees flee from conflicted countries such as Syria, Afghanistan and Africa, these supposedly temporary living arrangements are beginning to become communities of their own. For a camp in Calais, France, mosques, churches, shops, a barber and, as of last month, a school can be found in the encampment for those passing through.
According to an article by the global campaign A World at School, the largest camp in the northern part of Calais and Western Europe is known as "the Jungle," housing as many as 3,000 immigrants who wait in the hopes of gaining entrance into the United Kingdom.
Near the Jungle is the English Channel tunnel, known for its connection between France and England, which serves as a potential point of entry for migrants. Despite the danger and increased security around the border zones, migrants are willing to risk everything for the chance to jump on trains and lorries bound for the UK.
Meanwhile, refugees attempt to include aspects of normalcy into their everyday schedules by attending school or passing the time playing a game of dominoes. Makeshift tents and poorly constructed buildings make up the encampment, which is filled with people who have already survived the dangerous trek from their homes in the Middle East and Africa.
Today, it is not uncommon to see a school inside of a refugee camp, so when refugees started asking how to say French words or numbers, a makeshift school was created by Nigerian Zimarco Jones. It was soon up and running, staffed with the help of French volunteers.
Constructed from materials such as branches and wood panels, the makeshift school seats 20 students and faces a blackboard. Since its establishment in July, it has been given the name L'Ecole Laïque du Chemin des Dunes, which translates to The Secular School of Dune Way.
Mostly young men attend the school to learn both English and French and other subjects, but Jones plans to build an additional school for the more than 20 children and 200 women who live in the camp.
The current state of conflict in the world has displaced an astronomical number of children from their homes, wreaking havoc on their childhoods and robbing them of their education. Fortunately, there are opportunities that can be found in those temporary homes and stops along the way to their final destination — some place they earnestly look forward to one day calling home.
– Nikki Schaffer
Sources: A World at School, The Guardian 1, The Guardian 2
Photo: Al Jazeera America
https://borgenproject.org/wp-content/uploads/logo.jpg
0
0
Borgen Project
https://borgenproject.org/wp-content/uploads/logo.jpg
Borgen Project
2015-08-23 01:30:19
2020-07-01 22:00:18
Makeshift School Serves Calais Refugees