10 Facts About Sanitation in Zimbabwe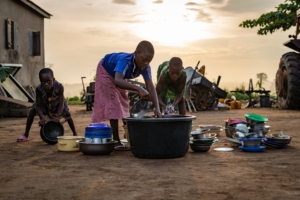 Zimbabwe is a landlocked country in southern Africa that lies between the Limpopo and Zambezi Rivers with a population of 14.86 million. In the 20th century, Zimbabwe's sanitation infrastructure was quite stable, but due to economic collapse resulting from the loss of public sector and donor investments in the early 2000s, the country's sanitation development came to a halt and it began to degrade. Thousands of people living in Zimbabwe's urban and rural areas lost access to not only clean drinking water, but also proper sanitation. Zimbabwe's constitution states that every person has the right to "safe, clean, and potable water," but the country still has a lot of work to do to make that statement come true. Here are 10 facts about sanitation in Zimbabwe.
10 Facts About Sanitation in Zimbabwe
Water coverage has been increasing since Zimbabwe's independence in 1980. Water coverage has

increased from 32 percent to 56 percent in the 20 years after the nation gained independence. This increase in coverage has also directly improved

overall sanitation access, from 28 percent to 56 percent. Two main elements propelled the growth of the country's sanitation infrastructure: interest in urban and commercial farming and implementation of innovative technologies by the Integrated Rural Water Supply and Sanitation Program (IRWSSP). Both endeavors helped drive urban sanitation coverage to 90 percent up until the late 1990s when the economic crisis caused the coverage to decline.

The rural sanitation infrastructure is still vastly underdeveloped. When comparing the rural system to the urban infrastructure of sanitation in Zimbabwe, flushing toilets, running water and access to clean drinking water is uncommon in rural areas. The World Health Organization (WHO) shows that 66 percent of the population in more affluent areas of Zimbabwe has access to basic sanitation, while only 13 percent of the population in poor areas has basic sanitation access. Further, while Zimbabwe's population does receive a small number of subsidies from the government to improve sanitation, 80 percent goes to the urban, more wealthy areas.
Studies prove sanitation in Zimbabwe's rural areas is significantly worse. According to a 2017 report by the Zimbabwe National Statistics Agency (ZIMSTAT),

91.5 percent of urban households

have properly flushing toilets, while just 36.8 percent of households in rural areas are without toilets. These rural areas do not have reliable access to water pipelines, and therefore, most of the population relies on open defecation. A Multiple Indicator Cluster Survey study estimated that 42 percent of the rural population in Zimbabwe still uses open defecation. In order to bring the rural areas up to the standards of the urban areas, the government would need to spend $90 million per year on sanitation hardware.

In 2010, the Zimbabwe National Action Committee created its Water Sanitation and Hygiene (WASH) Sector. WASH has helped to combine Zimbabwe's urban and rural sanitization efforts to gain a more organized action plan on how to improve sanitation, restore leadership throughout urban and rural areas, institutionalize government responsibilities and support sector development. So far, WASH has aided in the doubling of water production in 14 small towns, worked with UNICEF to drill boreholes, creating access to more water. The WASH program has also worked on the Participatory Health and Hygiene Education (PHHE) initiative, supporting 432 sanitation action groups and 388 health clubs.
Sanitation in Zimbabwe currently aims to align with the Sustainable Development Goals (SDGs).

The government recently approved a gender-sensitive Sanitation and Hygiene Policy that aims to ensure Zimbabwe is defecation free by 2030. To achieve this goal, the Sanitation Focused on Participatory Health and Hygiene Education (SafPHHE) has been implemented throughout 45 rural districts in Zimbabwe. SafPHHE will produce a framework to improve sustainable and reliable sanitation services. By spreading awareness of good hygiene behavior and increasing sanitation coverage, open defecation rates should reduce in accordance with the SDGs.

Australian aid has been supporting efforts to improve sanitation in Zimbabwe. CARE, an Australian-based international aid organization, works around the world but is also helping communities in Zimbabwe to build toilets and hand-washing facilities. About 6,671 students now have access to 2,870 new toilets with handwashing facilities in schools and villages in Zimbabwe.
Feminine hygiene and sanitation in Zimbabwe are sub-par. Many girls and women in Zimbabwe, ages 15 to 29 years old, do not have access to proper sanitary wear, or Menstrual Hygiene Management (MHM). This lack of feminine hygiene poses health risks not only to women but also to their communities. Girls miss four to five days of school because of menstrual cycles, according to CARE. According to an article published by Jamba, MHM is clouded in cultural taboos, constraints and unhygienic practices that further cause health-related dangers for women and girls. 
Households in Zimbabwe rely on donor-drilled boreholes for the water supply. While these boreholes do supply water, they are typically highly unsanitary. Specifically, cholera broke out in 2018, killing 30 people. Further, people sometimes use the boreholes as extortion for financial gain, or otherwise access the water.
Local and national corruption further exacerbate the issue of sanitation in Zimbabwe. In the capital city of Harare, the water management system charges residents for water even though the water does not run properly and is contaminated. Further, the government admits that it does not use the revenue to maintain and improve the quality of the water. The Export-Import Bank of China provided Zimbabwe's government a $144 million loan with no results in sanitation improvements. According to t

he Human Rights Watch, solutions include the government using a sliding-scale for the residents' water supply cost and investing in sanitation and water strategies, such as building toilets, pit latrines and uncontaminated boreholes.

In 2014, Zimbabwe's government made a public pledge to create and sustain a sanitation and hygiene policy. The government anticipates improvements aligned with the SDGs by keeping rural water supply functioning long-term, improving the reliability of the urban water supply, rehabilitating public latrines, emptying the latrines when they are full and reusing wastewater. It was the plan to achieve the goals by 2015, but with clear corruption and without proper funding, it may take some time for Zimbabwe to reach its goals.
Zimbabwe has an intense need for sanitation improvements in both urban and rural areas of the country. These 10 facts outline the current reality of sanitation in Zimbabwe. In aiming to achieve the SDGs and more, the country can change in a way to allow people to lead healthy and safe lives.
https://borgenproject.org/wp-content/uploads/logo.jpg
0
0
Lynsey Alexander
https://borgenproject.org/wp-content/uploads/logo.jpg
Lynsey Alexander
2020-03-13 05:00:44
2020-03-13 09:48:49
10 Facts About Sanitation in Zimbabwe