3 Quotes from Donald Trump About Foreign Aid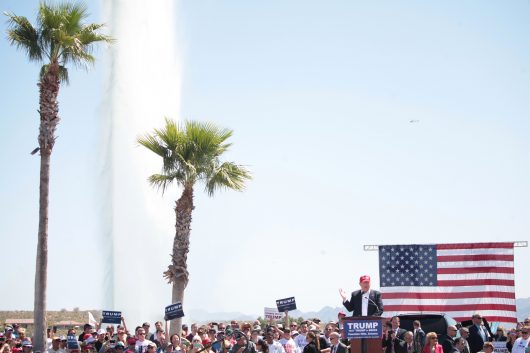 U.S. foreign policy is not just a hot topic issue that presidential candidates debate on TV. The president's foreign policy can affect a broad spectrum of issues, including global poverty and instability.
With the Democratic and Republican National Conventions coming up in July, now is a crucial time for voters concerned with U.S. foreign aid to review the candidates' platforms.
Republican presidential candidate Donald Trump has voiced a spread of controversial beliefs about many issues during his presidential campaign. According to Impact 2016, a non-partisan initiative of the USGLC, Trump's foreign policy platform is currently small.
He is a self-proclaimed master of the "art of the deal" who claims to hold the ability to negotiate from international business experience. Some of his major foreign policy points have been his concern with creating a stronger military and deterring Mexicans and Syrian refugees from immigrating to the U.S.
In regard to foreign aid, Impact 2016 reports that Trump has emphasized domestic development over global development during his candidacy and in past statements. Considering this fact, here are three thought-provoking quotes from Donald Trump about what he thinks of the U.S. giving foreign aid to developing nations.
"With Afghanistan, I want to build our country. You know in Afghanistan, they build a road. At the end of this beautiful road, they build a school. They blow up the school; they blow up the road; we then start all over again. And in New Orleans and in Alabama we can't build schools. I want to rebuild the United States."In a 2011 television interview with Bill O'Reilly, Trump expressed more interest in investing in domestic infrastructure than giving global aid. Any willingness he had to invest in struggling nations was qualified with some kind of reciprocity from the recipients of the aid. Although the discussion of Afghanistan concerned U.S. occupation, the statement reflects Trump's general belief that domestic development is a more fruitful investment for the U.S. than long-term investment.
In his speech announcing his presidential campaign, Trump declared that the U.S. should "stop sending foreign aid to countries that hate us."Trump asserted again in his June 2016 speech that he wanted to invest in domestic infrastructure, such as building roads and bridges in the U.S., rather than give aid to countries that "hate us." He was not in favor of investing in these developing countries and did not see aid as a positive investment for the U.S. His statement implies an attempt to decrease the amount of money allotted in the budget for foreign aid if he is elected president.
When a young man asked Trump if he would help to double the number of people receiving HIV/AID treatment through the U. S. President's Emergency Plan for AIDS Relief (PEPFAR) by 2020, Trump responded, "Yes, I believe so strongly in that, and we're going to lead the way."Trump's comment might surprise those who are familiar with his criticisms of U.S. global involvement. His response to an audience member at the No Labels Conference in October of 2015 shows that he is indeed open to supporting certain humanitarian projects. Briefly citing Alzheimer's as another disease he would like to fight, Trump acknowledged the progress that PEPFAR has made and pledged to support its mission.
Trump's vision seems to be overwhelming against increasing U.S. foreign aid. Even so, perhaps some of his comments, such as the one about PEPFAR, show that he is willing to promote certain government humanitarian organizations in select cases.
Hopefully, Trump's comments about foreign aid listed here and elsewhere are informative and helpful to voters as they decide which candidate will best address global poverty and the stability of the world.
For more quotes from Donald Trump on foreign aid, please see this article from The Borgen Project.
– Addie Pazzynski
Photo: Flickr
https://borgenproject.org/wp-content/uploads/logo.jpg
0
0
Borgen Project
https://borgenproject.org/wp-content/uploads/logo.jpg
Borgen Project
2016-07-04 01:30:07
2020-06-11 12:04:27
3 Quotes from Donald Trump About Foreign Aid