Poverty in Yemen: An Exploration of Why the Country is So Poor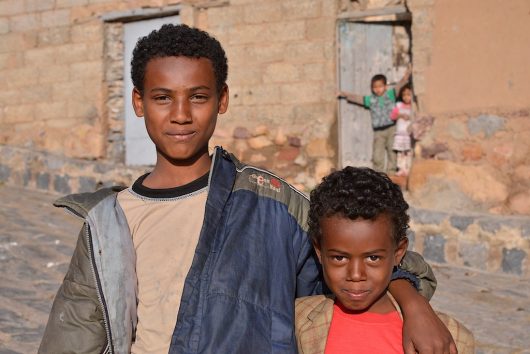 Poverty in Yemen holds one of the highest rates in the Arab world. Half of the population lives on less than two dollars per day.
The main reason for poverty in Yemen is a lack of basic resources, such as water, healthcare and education. Rural and remote areas make it physically, intellectually, economically and socially isolated from rest of the region.
Beyond this, Yemen faces may other problems as well. Most of the population does not have access to clean water and proper sanitation. Ten million people–nearly half of the population–go without enough food to eat. Child malnutrition rates are the highest in the world. Half of the children under the age of five are stunted. Girls often get married before the age of 15 and never receive a formal education. Illiteracy among women is currently at 49 percent. Yemen ranks 140th out of 182 countries on the United Nations Development Programme Human Development Index.
Exploring Leading Causes of Poverty in Yemen
The poverty crisis is related to the violence and chronic hunger in Yemen. An 18-month civil war in Yemen has killed 10,000 people. It pushed the country toward a famine and increased the poverty in Yemen. Eighty percent of the population requires humanitarian assistance.
The civil war has made conditions difficult for economic growth. There are two internal conflicts in the country. The southern conflict is between the government and extremist religious groups called the Houthis. The north of Yemen faces a conflict between the government and Al Qaeda. This conflict has lasted for more than 10 years.
Government corruption and nepotism is also widespread, and government officials only elect relatives or those who are going to pay bribes. A lack of jobs even among graduates has forced young adults to the streets, leading to even more widespread poverty in Yemen.
Furthermore, the country's infrastructure is very inadequate, and only 15 percent of the rural population is covered by the national electric grid. Transportation is expensive and the poor road networks obstruct travel.
The Gulf crisis led to the massive return of migrant workers who do not have an income or prospects of employment, further exasperating poverty rates in Yemen.
The United Nations World Food Programme delivers hope by working to fight poverty in Yemen. The organization reaches six million Yemenis with lifesaving food, meals for school children and sustainability projects such as rainwater conservation and irrigation. Ending poverty in Yemen will require the government to take responsibility of its citizens at the end of the civil war.
– Aishwarya Bansal
Photo: Flickr
https://borgenproject.org/wp-content/uploads/logo.jpg
0
0
Borgen Project
https://borgenproject.org/wp-content/uploads/logo.jpg
Borgen Project
2017-06-23 07:30:59
2020-02-12 20:07:55
Poverty in Yemen: An Exploration of Why the Country is So Poor