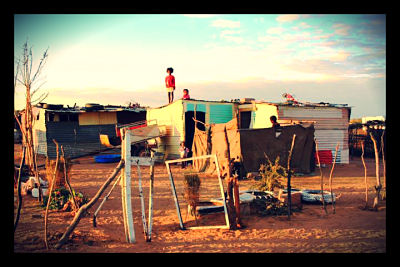 Located on the southernmost part of Africa's western coast, Namibia is not recognized by most Americans.  Namibia invests heavily in its people's education and health, possesses a free press, competitive business markets and one of the lowest rates of corruption in Africa.
However, it is marked by an extremely large economic divide among its citizenry.  Although it is technically a middle-income country, there is much poverty in Namibia as a result of income inequalities.  The UNDP rates the income disparity in Namibia as the highest in the world, at 70.7 on a scale of 0 to 100. The top 5 percent of Namibians control 70 percent of the country's GDP, while the poorest half of the population controls only 3 percent of GDP.  Poverty is most prevalent in rural areas of the country and among women, as is often the case.  Women head around 40 percent of households in Namibia, and these households are the poorest in the country.  Half of the country's population lives below the poverty line.
The government's poor land redistribution contributes significantly to Namibian poverty.  During the era in which Namibia was ruled by the apartheid regime in South Africa, large white-owned commercial farms dominated agriculture with cattle production.  The Namibian government has now divided these farms up and given the portions to natives in Namibia, still committing them to cattle production.  Essentially, the government has reproduced the apartheid era farms, but in a weakened form, as they are smaller and no longer subsidized by the South African government.  Experts suggest that a shift towards tropical agriculture and crop cultivation rather than cattle production is the solution to these land distribution issues.
Namibia also faces a severe HIV/AIDS epidemic, in which 19.7 percent of the country is afflicted.  As a result, life expectancy in the country has declined from 61 to 49 years.  Promoting economic growth in the country is difficult due to an under-educated and low-skilled workforce.  The economy is subsisted largely on the export of primary resources for little profit.
USAID uses its "ABCDE's of development" to combat poverty in Namibia:  AIDS and TB prevention, care, and treatment, basic education, community-based natural resource management, democracy and governance, employment creation/enterprise development.  Through PEPFAR, the US has given $42.8 million in funds for disease management and prevention.  USAID has also provided training to 4,000 teachers in Namibia in the hope of developing human capital to form a more skilled workforce.  USAID also promotes community-based democratic programs to help strengthen the country's democracy and governance.
Namibia, rich in natural resources such as diamonds, uranium, lead, gold, copper, zinc, bountiful fisheries, natural gas, and some of the most spectacular and varied scenery and wildlife in the world, could greatly benefit the world's economy. It also benefits from an extremely developed infrastructure and a politically stable government.  If the country can overcome its disease issues, poor land redistribution and income inequalities, it will be an asset to the global economy.
–  Martin Drake
Source: World Bank, USAID, IRIN News
Photo: Steps For Children
https://borgenproject.org/wp-content/uploads/logo.jpg
0
0
Borgen Project
https://borgenproject.org/wp-content/uploads/logo.jpg
Borgen Project
2013-07-02 04:00:01
2020-07-12 20:13:39
Poverty in Namibia