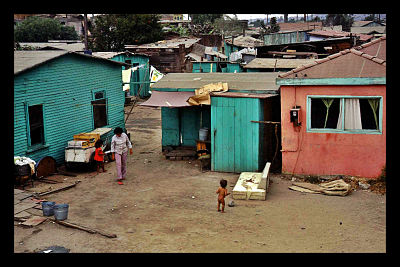 This July, Coneval, the Mexican government social development agency, reported that while the national poverty rate declined a measly .6 percent, an increase in the population meant a half million increase in the number of people living at or below the poverty line. The report revealed that 45.5 percent of Mexico's citizens live in poverty. Coneval defines poverty as living on 2,329 pesos, the equivalent of $183, per month in the city and 1,490 pesos, or $117, in rural areas. It defines extreme poverty in the city at $88 per month and $62 per month in rural settings. As of 2012, almost 10 percent of the population of Mexico lives in extreme poverty, totaling 11.5 million people.
After the Coneval data was published, Mexican Finance Minister Luis Videgaray said, "The only feasible, permanent answer to reducing poverty in Mexico is through economic growth."
President Enrique Peña Nieto echoed a similar sentiment, promising plans for modernizing existing assistance programs and creating new programs. While Mexico's current government assistance program Oportunidades has been internationally recognized for its success, the program mainly offers monetary support and lacks focus in policies concerning income growth.
The National Bureau of Economic Research found suggestive evidence of a connection between globalization and poverty in Mexico. Because the country was so aggressive when they opened their economy completely in 1985, Mexico's GDP has almost tripled. In 1980, five years before tariffs were cut and other trade restrictions removed, eleven percent of the GDP was from international trade. In 2002, it reached 32 percent.
A majority of Mexico's poorest states are in the southern region of the country. The four poorest in the nation are Chiapas with 74 percent of its population living in poverty, Guerrero at 69 percent, Puebla at 64 percent and Oaxaca at 61 percent. All four states sit well above the national poverty percentage of 45.5 percent. In Oaxaca, Chiapas and Guerrero, 50 percent of the population lives on $62 or less a month.
Rural areas in Mexico are the areas that see the least amount of economic growth and development. This is also where 61 percent of the indigenous population lives in extreme poverty. Oportunidades focuses 99 percent of its services on rural or semi-urban areas. They are currently assisting 6.5 million families in a number of ways. Most benefits come in the form of cash deposits for the people who qualify for the program. A section of the program called Youth with Oportunidades gives economic incentives to students who graduate high school before they turn 22 years old. Because women head eight of every ten single-parent household in Mexico, Oportunidades also gives cash transfers to help pay for high-quality food for children.
The assistance that Oportunidades is offering those living in poverty benefits lives in the short run, but the global community hopes it will be a launching pad for greater economic growth in Mexico.
– Jordan Bradley
Sources: The Latin Times, World Bank, The National Bureau of Economic Research, Rural Poverty Portal, Mexidata Reuters
Photo: Allison Orthner
https://borgenproject.org/wp-content/uploads/logo.jpg
0
0
Borgen Project
https://borgenproject.org/wp-content/uploads/logo.jpg
Borgen Project
2013-08-10 04:57:26
2016-02-16 11:54:48
Poverty in Mexico