How Origami Provides Access to Clean Water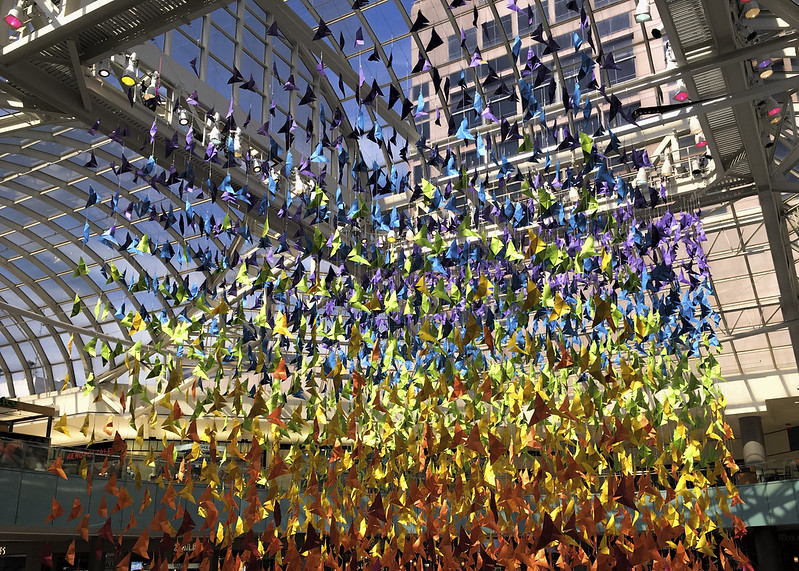 Paper for Water is a non-profit organization located in Dallas, Texas that transforms lives through origami practices. In 2011, two sisters, Katherine and Isabelle Adams, ages five and eight years old, discovered that millions of people in the world do not have clean water resources. Furthermore, in impoverished countries, young women often skip school to walk miles in search of clean drinking water. So, the Adams sisters decided to make a difference by handcrafting origami ornaments for donations to build a well for an Ethiopian community. After raising more than $10,000, when their original goal was to raise $500, the Adams sisters established their corporation, Paper for Water. Here is how origami provides access to clean water.
Now, Katherine and Isabelle Adams, ages 14 and 16, work alongside hundreds of volunteers across North Texas. Since 2011, Paper for Water has raised over $2 million, helping fund 200 water projects in numerous countries. Paper for Water has trained over 1,000 people the art of folding origami. It has graced over 48,000 people with access to clean water through implementing water wells in deprived communities.
Paper for Water and Education
Additionally, Paper for Water educates local communities in the global water crisis. There are approximately 2.5 billion cases of diarrhea every year in children less than five years old. Diarrhea accounts for about 760,000 deaths in children under five years old annually. Diarrhea is now the second leading cause of death in children across the world, advancing AIDs, malaria and measles combined. Caused by unsafe drinking water and poor sanitation conditions, diarrhea is one obstacle developing communities across the globe face.
Paper for Water stresses the importance of clean water well building through their past 120 educational talks, which reached 14,000 people. Paper for Water's informational efforts gained the attention of influential social media platforms, such as Nickelodeon's HALO Effect, the Kleenex Corporation, Martha Stewart Living, People Magazine and CBS.
Where Paper for Water Does Business
Paper for Water currently sells its origami ornaments on their online store and in some temporary stores as specified online, such as Neiman Marcus and Galleria Dallas. The beautiful, ornate decorations are Paper for Water's primary source of financial donations. Each profit from an ornament sold goes straight into Paper for Water's efforts of water well building abroad. So, with each paper folded, with each origami created, Paper for Water provides access to clean water. Nevertheless, Paper for Water relies on monthly donors of $10 a month to help maintain its goal of installing one water well per month.
Paper for Water has partnered with businesses across North Texas, instituting large installations of their elegant crafts. In 2017, Paper for Water constructed 350 origami ornaments for Neiman Marcus' Christmas Book. This partnership with Neiman Marcus enabled two schools in Kenya to receive water wells. Galleria Dallas and Mo Wax Visual partnered with Paper for Water in 2018, crafting over 4,000 origami butterflies for their "Fold to Flight" display. Galleria Dallas Mall provided Paper for Water with a temporary store during the summer installation. The Crow Museum of Asian Art's Lotus Shop in Downtown Dallas also installed a Paper for Water exhibit. The magnificent origami piece exhibits a collaborative project with Ekaterina Lukasheva, a famous origami artist.
Current Partnerships and Success
Paper for Water also has partnerships across the United States through its essential volunteer base. Multiple groups of volunteers appear across the nation, consisting of the Well Wishers Group, the Paper Dolls Group, Paper for Water's Youth Representatives Worldwide, NorthPark Presbyterian Church, Volunteers of All Ages Group and several families and school clubs across America. With the help of volunteers making origami ornaments, the organization can make a difference and administer clean water resources globally.
Paper for Water is transforming lives one piece of paper at a time. Through designing origami pieces, the organization combines art and philanthropy, supplying the world's thirsty with clean water wells. Paper for Water hopes to end the world water crisis and continues to make and sell origami ornaments every day. Paper for Water's website provides multiple options to get involved in the cause, from purchasing origami ornaments to learning how to make origami to volunteering or donating monthly. 
– Kacie Frederick 
Photo: Flickr
https://borgenproject.org/wp-content/uploads/logo.jpg
0
0
Jennifer Philipp
https://borgenproject.org/wp-content/uploads/logo.jpg
Jennifer Philipp
2020-07-09 14:47:53
2020-07-09 14:47:52
How Origami Provides Access to Clean Water