Norway Quality of Life Far Exceeds America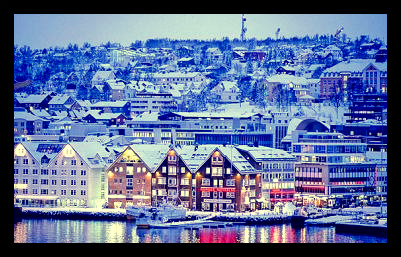 When it comes to quality of life, there are few countries that can supersede America in terms of luxury, comfort and overall well-being. Not even Canada or Britain exceeds the United States in quality of life. However, Norway, an oil-rich country situated in the Scandinavian Peninsula, undeniably outstrips the American standard of living.
The United States has a lower per capita GDP than Norway with a GDP of 51,749 compared to 99,558, respectively, and is also home to one of the most pressing income distribution gaps in any industrialized nation, surpassed in income inequality by only Russia and Mexico.
Due to America's cavernous income inequality, the poorest 38% of Norwegians are better off than the poorest 38% of Americans despite an overall lower average per capita GDP. According to Syracuse University professor Timothy Smeeding, the United States relies heavily on the markets to an extent that social safety nets are neglected, unlike Norway, which focuses more resources on providing aid to the poor.
This is not to say that America completely disregards its poor. To clarify, the United States has initiated its portion of socially-oriented acts, such as its attempt to reform the welfare system during the past two decades.
However, while the number of individuals on welfare was reduced from 5 million to slightly over 2 million, the welfare poor were downgraded into the working poor. Although welfare reform was rooted in good intentions, the lack of government safety nets defeated the purpose of the entire act.
Although the discovery of oil on the land in 1969 had transformed Norway, more than just an abundance of the valued natural resource buttresses Norway's economy. Norway's success has been attributed to what many call the "Norwegian Model"– a model of running a welfare state in which resources are carefully monitored, preserved and kept up-to-date.
While the United States ranks among one of the wealthiest nations in the world, it has stayed remiss in establishing social safety nets, particularly for the less economically-advantaged subsection of the population. Due to the lack of social safety nets, America hosts one of the largest global income inequality gaps, and is ultimately surpassed by the tiny welfare state of Norway in terms of quality of life.
– Phoebe Pradhan
Sources: Infoplease, CS Monitor, World Bank, News in English
Photo: The Telegraph
https://borgenproject.org/wp-content/uploads/logo.jpg
0
0
Borgen Project
https://borgenproject.org/wp-content/uploads/logo.jpg
Borgen Project
2014-02-12 07:04:21
2014-02-12 07:04:21
Norway Quality of Life Far Exceeds America