South Korea's New Village Movement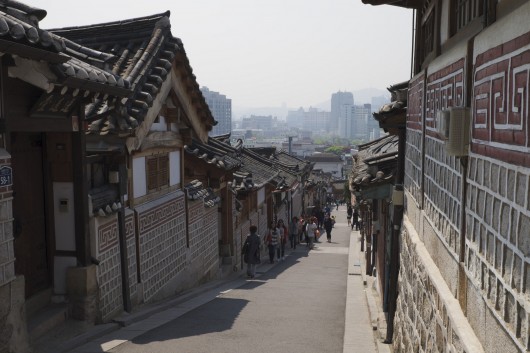 When people think of South Korea, they may imagine an export powerhouse replete with skyscrapers, neon lights and a booming economy. Few remember the South Korea of yesteryear, a war-torn nation with a GDP per capita of $70 in 1957, equivalent to Ghana. Even fewer recall the New Village Movement. To teach the world about this program that eliminated its extreme rural poverty, South Korea held its second annual Global Saemaul Leadership Forum (GSLF) from Nov. 24 to Nov. 27, 2015.
The New Village Movement is called "Saemaul Undong" in Korean.  Begun by President Park Chung-Hee, South Korea's dictator from 1961 to 1979, it is based on a simple idea: community-led development. Park provided each of the nation's 33,267 villages with 335 bags of cement, a half ton of iron rods and a plan.
The plan consisted of four steps that began with selecting community leaders and gathering seed money. Step 2 featured small meetings with villagers to persuade everyone to join. Step 3 was the main phase of the project, and involved modernizing homes, establishing cultural facilities and launching cooperative ventures. Lastly, villages would create their own newspapers, build city halls and partner with neighboring towns.
Within 9 years, rural income nearly sextupled from a household average of 225,800 won to 1,531,800 won. Thatched huts gave way to tiled houses across the country. Rural poverty decreased from 27.9 percent before the program to 10.8 percent after, and women gained a more prominent place in the local economy.
Due to the success of the New Village Movement, the United Nations recognized the program as a model for rural development. At the November GSLF conference in Daegu, more than 500 delegates from 50 countries gathered to learn more about the model. Countries with representatives included Afghanistan, Ethiopia, Rwanda, Myanmar, Mongolia, Sri Lanka, Honduras and Azerbaijan.
The primary aim of the conference was education for New Village Movement leaders in countries outside of South Korea. Leaders are trained at the Global Saemaul Undong Training Center in Seoul, but the conference provides a unique opportunity for them to learn from each other as well as their Korean mentors.
South Korea has made considerable progress in getting other countries to adopt its model. According to a press release in September 2015, the United Nations Development Programme (UNDP), in partnership with the Korean government, created an updated New Village Movement called "Saemaul toward Inclusive and Sustainable New Communities" (ISNC). ISNC is being implemented in Bolivia, Vietnam, Uganda, Myanmar, Laos and Rwanda .
Whether the New Village Movement will flourish in other countries remains to be seen, but there is reason to hope. Sri Lanka has already implemented seven New Village Movement projects in its country. By following the Korean model, villages now have concrete roads, a city hall and electricity. One village has already seen its income quadruple through the addition of powered pottery wheels. This had the added benefit that local women could become potters.
People often dismiss efforts to eradicate poverty, but in truth, it has already been done. South Korea lifted millions of impoverished villagers out of poverty while entwining them in the larger fabric of the national community. As the New Village Movement spreads around the globe, millions more are sure to benefit.
– Dennis Sawyers
Sources: Asia Foundation, Modern Ghana, Saemaul Undong, The Sunday Times, UNDP
Photo: Flickr1, Flickr
https://borgenproject.org/wp-content/uploads/logo.jpg
0
0
Borgen Project
https://borgenproject.org/wp-content/uploads/logo.jpg
Borgen Project
2015-12-20 01:30:51
2020-06-25 10:46:12
South Korea's New Village Movement