Natural Disasters: Aid in Developing Countries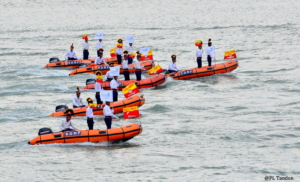 Within the past few years, natural disasters have been occurring more frequently with increasing intensity. Examples of natural disasters include hurricanes, floods, droughts, landslides and earthquakes. The greater the impact, the higher the mortality rate. This results in a higher level of destruction and trauma for those in the region. It is estimated that natural disasters cost the government around "a third of a trillion dollars" to rebuild communities and provide resources for the public.
Natural Disasters in Developing Countries
Natural disasters affect developing countries the most because many lack the resources and funding to protect their communities adequately. Families in developing countries do not live in homes prepared to withstand such disasters. As a result, many face displacement under these tragic circumstances.
Although natural disasters damage communities and put many people through challenging situations, several organizations prioritize bringing relief to these communities. UNICEF, Habitat for Humanity and International Relief Teams are some that focus on bringing resources to developing countries.
3 Organizations Bringing Aid to Developing Countries
Habitat for Humanity: With more than 40 years of experience, Habitat for Humanity focuses on 

building safe and affordable housing

for those affected by natural disasters. Its disaster preparation plan

focuses on

disaster risk reduction training, disaster-resistant construction and community preparation. In Puerto Rico, 99

%

of homes do not have flood insurance. In 2017, hurricanes destroyed 90% of the homes there. The organization

created

2,000 solar panels, 2,000 solar lanterns and 2,000 shelter repair kits to provide residents with essential repairs. In a partnership with World Vision, Habitat for Humanity also repaired and built homes for 2oo families in the Dominican Republic.

UNICEF: When natural disasters occur, UNICEF is one of the first responders. It

provides

"water purification tablets, vaccines and nutritional supplements for children and nursing mothers." It also supplies school kits, temporary shelter and trauma counseling. The organization helps displaced children who may have lost their way looking for shelter reunite with their parents. After Mozambique's country was swept over by a cyclone in March 2019, UNICEF

assisted many families

with urgent needs, focusing on malnutrition prevention and locating children who may have been left orphaned. It also helped get children back into school. Within a month, UNICEF gave cholera vaccinations to 900,000 people

 and restored Beira's water supply for

500,00 people. It also helped fight malaria by providing 500,000 mosquito nets.

International Relief Teams: In September 2019, category 5 hurricane Dorian devastated the Bahamas before heading towards the United States. In the Bahamas, 

43 people died

. During this time, the International Relief Teams 

provided the Bahamas

with 5,000 tarps for temporary shelter, 21,024 ready-to-eat meals. It also set up 158 generators and 2,000 solar lights. The hurricane also destroyed around 45% of homes in Grand Bahama and Abaco. With the help of donations, however, the organization hired local laborers to help rebuild more than 100 homes.
During trying situations and natural disasters, humanity has a miraculous gift of coming together and taking care of one another. Whether providing critical resources or rebuilding homes, many organizations go out of their way to help others.
– Paola Quezada
Photo: Flickr
https://borgenproject.org/wp-content/uploads/logo.jpg
0
0
Lynsey Alexander
https://borgenproject.org/wp-content/uploads/logo.jpg
Lynsey Alexander
2020-06-07 07:31:54
2020-08-03 16:33:14
Natural Disasters: Aid in Developing Countries