Michelle Obama Launches New Education Program for Girls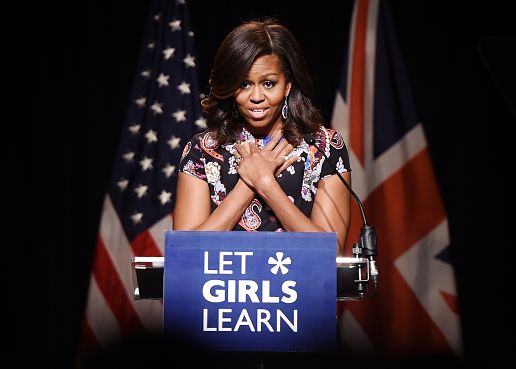 On a recent visit to London, Michelle Obama unveiled a new international plan to improve girls' education. Obama's Let Girls Learn Initiative aims to bring quality education to girls around the world. To kick off the initiative, Obama announced a new $200 million partnership between the United States and the United Kingdom.
The new partnership will be a joint effort by both countries to properly allocate funds to the countries with the greatest educational needs. The first projects will help 450,000 children in the Democratic Republic of Congo receive a primary school education, with benefits also going to Sierra Leone and Liberia.
In developing areas like these, girls often lack access to proper education. In total, there are approximately 62 million girls around the world today that are not in school. Even worse, half of this uneducated female population is made up of adolescents.
Looking ahead, the First Lady's multi-million-dollar program is expected to benefit more than 755,000 girls between the ages of 10 and 18 over the next five years. Through bilateral collaboration, girls will be provided with access to education.
The plan includes enrolling students in accelerated primary school programs, reducing barriers to school access and mobilizing parental and community support. It will also focus on improving the quality of teaching materials and methods.
The partnership will also encourage other advocacy organizations to collaborate with one another in order to find the best solutions to improve girls' education worldwide in terms of quality and access.
Shortly after the initiative was originally announced in March, the White House released a statement saying, "When a girl receives a quality education, she is more likely to earn a decent living, raise a healthy, educated family, and improve the quality of life for herself, her family, and her community."
This press release highlights the connection between girls' education and even larger, more deeply rooted worldwide problems. It is in the world's poorest areas that girls' education suffers the worst deficiencies. Improved education could bring improvements in other important areas as well.
Rocco Blume of the charity Plan International U.K. points out that improved education for girls could result in an influx of contributions to developing economies and impoverished communities. In fact, targeting issues like girls' education is key in tackling other challenges like poverty and maternal health.
Countries with more girls in secondary school tend to have lower maternal mortality rates, lower infant mortality rates, lower rates of HIV/AIDS and better child nutrition. These facts stand at the foundation of the Let Girls Learn Initiative and the core of the U.S.-U.K. partnership.
Poverty is one small word for one incomprehensibly large problem. It must be tirelessly chipped away at, piece-by-piece. The worldwide effort to combat poverty is strengthened by zeroing in on particular issues like girls' education. Hopefully, this new partnership will spark increasingly focused on international collaboration.
– Sarah Bernard
Sources: CNN, Essence, Voice of America, The White House
Photo: eNCA
https://borgenproject.org/wp-content/uploads/logo.jpg
0
0
Borgen Project
https://borgenproject.org/wp-content/uploads/logo.jpg
Borgen Project
2015-07-04 06:45:46
2020-07-14 08:16:05
Michelle Obama Launches New Education Program for Girls