How the Government Is Working To Improve Mental Health Care in Croatia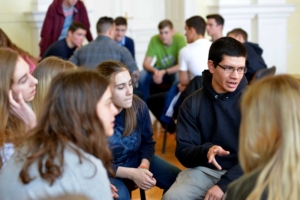 Since declaring independence from Yugoslavia in 1991, the Central European nation of Croatia has faced numerous difficulties, including a devastating war from 1991 to 1995, that have contributed to a rise in mental health issues among its population. However, since joining the European Union in 2013, the Government of Croatia has focused on implementing community-based solutions and other health care reforms to address the problem.
The State of Mental Health in Croatia
Statistics show that mental health in Croatia has declined since the end of the war in 1995. For example, a 2009 study noted that the period of transition following the war was marked by "a dramatic rise in the prevalence of post-traumatic stress disorder, especially among soldiers." Similarly, a 2010 comparative study of patients suffering from mental illness in Germany and Croatia revealed that the prevalence of war trauma and post-traumatic stress disorder (PTSD) was significantly higher among Croatian patients, with 78% reporting experiences of war trauma and nearly 62% exhibiting PTSD. By contrast, only 6.8% of the study's German participants reported experiences of war trauma and only 30% exhibited PTSD.
More recent statistics indicate that Croatia has continued to witness a significant rise in mental health conditions. For instance, a 2019 study by scholars at the Croatian Public Health Association and the University of Zagreb School of Medicine estimated that some 30% of the Croatian population was struggling with one or more mental health issues, with 50% of those conditions developing at 14 years of age. The study stated, "Mental disorders account for the largest and fastest-growing categories of the burden of disease in Croatia," making clear that mental health is a key concern in improving overall health within the nation. However, in 2019, just 6% of Croatian females and 5% of Croatian males over the age of 15 reported consulting with a mental health professional.
Though significant, the figures from these studies highlight a need for even more effort toward ensuring the effective detection, diagnosis and treatment of mental health issues in Croatia.
Community Care
On the bright side, the Croatian government has been introducing reforms that target the growing national epidemic of mental health conditions. Noting that factors like the COVID-19 pandemic and recent earthquakes have exacerbated the problem, in 2022, the government adopted the Strategic Framework for Mental Health. Outlining plans of action to be implemented between 2022 and 2030, the framework prioritizes mental health as a public health concern. It focuses on early detection and prevention of mental health conditions, increasing access to mental health care and improving the effectiveness of treatment.
Implementing community-based treatment and support programs is a key component of the framework. Furthermore, it emphasizes developing telemedicine services and providing care through "mobile multidisciplinary teams." These initiatives are part of a larger effort, outlined in Croatia's National Health Development Plan for 2021-2027, to make the country's health care system more accessible, affordable and effective.
Croatia's Young People
While community care is a focus of Croatia's mental health care reforms, the Croatian government and the Ministry of Health have also recognized the need to focus on youth mental health services.
As of June 2023, UNICEF estimated that some 11.5% of Croatian young people between 10 and 19 years of age are struggling with mental health issues, and, according to the World Health Organization (WHO), 75% of mental illnesses in Croatia develop by the time individuals reach their mid-20s. To tackle this issue, Croatia's Strategic Framework for Mental Health 2022-2030 emphasizes introducing mental health education and treatment into schools. This includes developing social-emotional learning programs to help young people better understand and express their feelings, as well as implementing peer support and counseling programs. Such reforms are part of the government's initiative to destigmatize mental health in Croatia, ensure treatment for those who need it and reduce the development of mental health conditions.
Visible Progress
Evincing the Croatian government's commitment to improving mental health care in the country, Croatia's suicide rate per 100,000 people had already fallen from 12.31 in 2013 to 11.01 in 2019, according to the WHO's Mental Health Atlas 2020 report. Additionally, the number of mental health workers per 100,000 people rose from 59.86 in 2017 to 67.84 in 2020. Such statistics demonstrate the visible success of early government interventions aimed at improving mental health care in Croatia. With the Croatian government's continued efforts to develop the country's mental health system, expand its services and reach more of the population, mental health care in Croatia can record more progress in the years to come.
– Matilda Davey
Photo: Flickr
https://borgenproject.org/wp-content/uploads/logo.jpg
0
0
Saiesha
https://borgenproject.org/wp-content/uploads/logo.jpg
Saiesha
2023-07-08 07:30:48
2023-07-05 01:32:22
How the Government Is Working To Improve Mental Health Care in Croatia