Addressing Malnutrition in Venezuela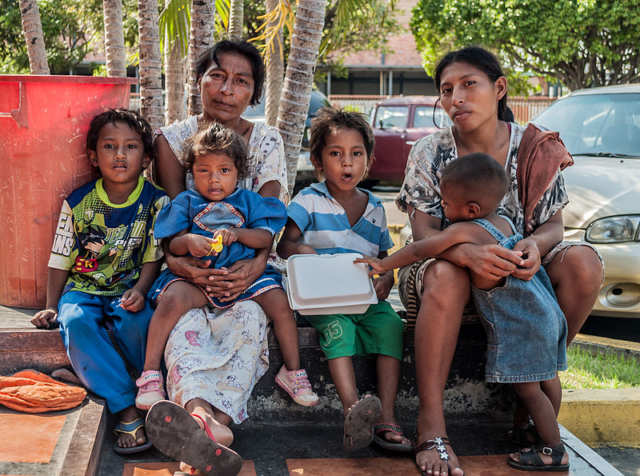 A meager 3% of Venezuelan families are considered food secure in a country where more than 96% of people live in poverty. Child malnutrition in Venezuela rose to 26% from December 2019 to March 2020. Maduro's government, a hotbed of mismanagement, corruption and cronyism, has done little to help the poverty and malnutrition in Venezuela. Hyperinflation continues to suppress economic activity, and U.S. sanctions imposed to pressure Maduro into reform or exit, have limited Venezuela's access to imported food, medicine and other basic goods. On April 19, 2021, the World Food Programme announced that it would be implementing a program to address food insecurity and malnutrition in Venezuela.
Child Malnutrition in Venezuela
A 2021 policy brief by medical researchers called Venezuela's public health system "practically non-existent." Especially with U.S. sanctions, many healthcare facilities are unable to obtain the medicine or medical equipment needed to properly function. The impact of the COVID-19 pandemic puts further strain on already limited health resources. As of April 2021, the Venezuelan Government has vaccinated less than 1% of the Venezuelan population.
According to a UNICEF report, 13% of children in Venezuela suffered from malnutrition between 2013 and 2018. Without access to sufficient calories, protein or generally diverse foods, many of these children will be held back developmentally, far beyond their childhood years. Venezuelan nutritionist, Raquel Mendoza, tells Thompson Reuters that "A population suffering from malnutrition implies we are going to have adults with less physical and intellectual potential." Mendoza states further that "We're going to see a regression in the development of the country because human resources are diminished." These words express the urgency and importance of speedily addressing malnutrition in the country.
Before 2009, Venezuela's infant mortality rate was steadily declining. In the first decade of the Chavez presidency, which began in 1999, infant mortality dropped by half. However, under Venezuela's ongoing economic and sociopolitical crisis, the infant mortality rate has regressed to where it was in the 1990s. Even though many cases go unreported, statistics show that child mortality increased by 30% in 2016.
The World Food Programme Alleviates Malnutrition
Starting in July 2021, the World Food Programme (WFP) will provide school lunches for children between 1 and 6 years of age. The WFP's goal is to reach 185,000 students by the end of 2021 and 1.5 million by the end of 2023. These meals will mainly go to preschool and special education schools, but public and private schools will receive aid too.
Despite the pressing need for foreign aid, the Maduro government has historically rebuffed aid attempts by international organizations and governments. According to the Washington Post, Maduro blocked almost $60 million worth of U.S. aid in 2019 and insisted that Venezuela was not a country of beggars.
The agreement reached between Maduro and the WFP Executive Director David Beasley on April 19, 2020, came after months of resistance by the government. The program's operations will remain independent of the political turmoil and uncertainty of Maduro's rule.
The Road Ahead
Although the aid cannot catapult Venezuela out of its current crisis, the WFP program will improve the lives of many families who do not know how or when they will eat next. Although rarely dissolving geopolitical tensions or toppling an unjust regime, humanitarian aid organizations can and do protect those who suffer from the impacts of corruption, mismanagement and conflicts of others.
– Alexander Vanezis
Photo: Wikimedia Commons
https://borgenproject.org/wp-content/uploads/logo.jpg
0
0
Kim Thelwell
https://borgenproject.org/wp-content/uploads/logo.jpg
Kim Thelwell
2021-04-29 06:17:48
2021-06-09 06:18:19
Addressing Malnutrition in Venezuela