Informal Sector in India: Hub for Hope and Change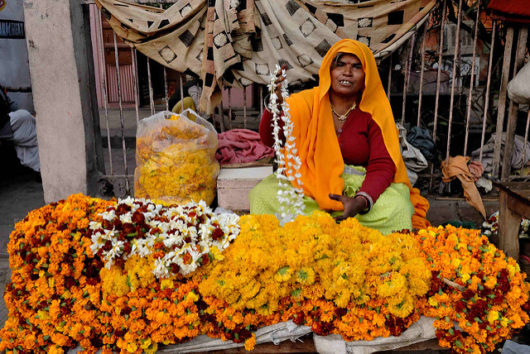 The socio-economic landscape in India is largely informal. According to the International Labor Organization, close to an estimated 81 percent of all employed people in India are engaged in the informal economy, most of which is in the agricultural sector.
The Informal Sector in India
Contrary to popular belief, the informal sector in India has seen improvements in productivity and employment and, to some extent, wages. The informal sector contributes to the economy and also helps the formal economy; however, informal economy workers continue to earn lower wages, lack social security and have less protection than their peers in the organized sector. The informal sector attracts the workforce because it offers easy access; the formal sector, on the other hand, hosts barriers to entry that are often costly and tedious to get through.
The informal sector in India is socially regulated rather than state-regulated; however, the government is attempting to gather data and regularize the informal sector through the process of digitization. This will allow for effective regulation of cash transfers and provide the government with the tools to better understand the informal sector. By mapping the vast informal sector, the government will have more information about the real growth in India's economy.
Women Workers in India
Around 94 percent of total women workers are employed in the informal sector, most of whom work as agricultural workers, construction labor and domestic help. Many women are able to gain entry and jobs in this sector, as there are no barriers with regards to skill. This then acts as a way for women to provide for their families. Women find it difficult to enter the organized sector, and their gender exposes them to political, economic and social discrimination, which is why they enter the informal sector.
There is hope that women's participation in the workforce will reduce gender inequality and that integrating women into the labor force will allow for social and economic empowerment. However, there is a  lack of recognition of the role of women in both their homes and at work.
Equality, Gender and Children
It might appear that there is little gender discrimination in the informal sector, as it is commonplace to see women working alongside men, carrying heavy loads on construction sites or in brick kilns. However, closer examination reveals that amongst the more skilled and higher-paid jobs — such as that of masons, plumbers or carpenters — the workforce is predominantly male.
There are also concerns about the welfare of children —  women are often left with no option but to bring infants to the workplace, where they exist largely unattended. Non-governmental organizations are now setting up mobile creches so that the children of migrant workers receive some care; but this option is limited in its current status as an urban phenomenon, confined to the metropolises.
Goal for Growth
Women's collectives are agencies which provide women with the space to grow and demand rights. This provides women with legal training to seek social services and adequate work conditions. In recent years we see greater activity here, especially in the field of legal aid, and women-only police stations make it easier for women to seek justice.
Some areas, however, remain untouched; domestic workers, for instance, have no written contracts, they enjoy no mandatory weekly off days nor any regulated working hours. Thus. one can see that there is a need to create regulations in the informal sector in India to measure growth, empower women and improve working conditions.
– Isha Kakar
Photo: Flickr
https://borgenproject.org/wp-content/uploads/logo.jpg
0
0
Kim Thelwell
https://borgenproject.org/wp-content/uploads/logo.jpg
Kim Thelwell
2018-11-13 01:30:36
2019-05-21 14:25:05
Informal Sector in India: Hub for Hope and Change