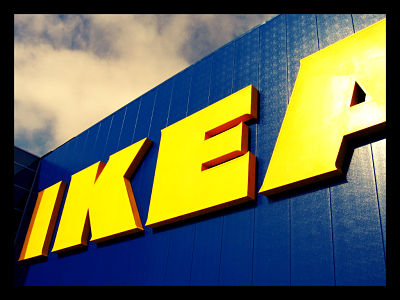 IKEA has teamed up with the United Nations Refugee Agency, UNHCR, to improve living conditions for refugees. The Swedish company is developing a program that will build modular shelters for displaced people throughout the world.
Like IKEA's furniture, each shelter is produced in a ready-to-assemble format. The shelters are made of durable materials and can be constructed in four hours. They are expected to be low-cost and to last longer than current refugee tents, which are only made to withstand six months of use. The IKEA shelters are designed to be more durable than the tents, with a guaranteed life of three years, and to provide better protection for the refugees. UNHCR states that on average, refugees live in their shelters for 12 years.
Each IKEA shelter will come with a solar panel to produce electricity. IKEA hopes that the electricity will make tasks like sewing and cooking easier and will allow children to do homework at night. The shelters will also have specially-made walls constructed with materials that can "deflect heat during the day and retain it at night."
UNHCR states that 26 shelters have already arrived in Ethiopia. The next nations expected to receive the IKEA shelters will be Iraq and Lebanon in efforts to help create more durable living situations for refugees from the civil war in Syria.
Each IKEA shelter currently costs $8,000, however UNHCR hopes that each unit cost will be reduced to $1,000 in the future. Each refugee tent costs $500, meaning the IKEA shelters will be twice as expensive, but are guaranteed to last six times as long.
While IKEA is helping to fulfill the housing needs in refugee camps, UNHCR is bringing health care, education, and job training to those in need. Together, IKEA and UNHCR are looking to help the 35.8 million refugees throughout the world who strive for a better future.
– Jordan Kline
Sources: IKEA Foundation, Public Radio International, News 24
Photo: FC