Haifaa al-Mansour: First Female Saudi Director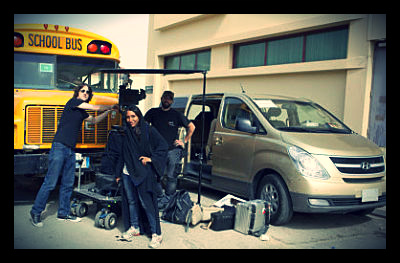 Haifaa al-Mansour has a lot of which to be proud. Not only is she the first female Saudi director, she is also the first person to shoot a film entirely in Saudi Arabia. The film, called "Wadjda," was also submitted for the Academy Award for best foreign language film, the first time Saudi Arabia has entered the category.
Al-Mansour was born in Saudi Arabia in 1974. Although there are no movie theaters in Saudi Arabia, her father fostered her interest in movies by keeping a collection at home. She went to film school abroad which is where she made her first shorts and later her documentary "Women without Shadows," chronicling the lives of hidden women in the Gulf. "Wadjda," her latest film, focuses on a young girl who wants to buy a bike so she can race with a boy in her neighborhood. Girls are not generally allowed to ride bikes in Saudi Arabia, so she tries to save her money to buy the bike herself by entering a Qur'an recital competition.
Filming a movie in Saudi Arabia is no easy task, and is even more difficult if you are a woman. The film actually took nearly five years to make due to issues with procuring funding and getting permission from the government to film on location. Al-Mansour was insistent on filming in Saudi Arabia to preserve the authenticity of the story. Once funding and the permission to film were secured, more roadblocks followed. For example, since women are not allowed to travel outside unattended, she worked from inside a car with a walkie-talkie, driving from location to location. Al-Mansour referred to this particular problem as "tough but rewarding."
The movie also focuses on what Saudi society expects of girls and interpersonal relationships between friends and family. Al-Mansour said of the main character, "I think she's a kid and she's just discovering the society around her. She's discovering what she can do and what she cannot do. And I think she wants to race a boy, she wants to—you know how kids are, competitive — she wants to win. She wants to assert herself and be heard. But she's not trying to be aggressive as much as assertive. She's trying to find herself, to enjoy life, and for me that was a very important theme in the film."
– Colleen Eckvahl
Sources: NPR, New York Times
https://borgenproject.org/wp-content/uploads/logo.jpg
0
0
Borgen Project
https://borgenproject.org/wp-content/uploads/logo.jpg
Borgen Project
2014-01-13 22:06:19
2014-01-13 22:06:19
Haifaa al-Mansour: First Female Saudi Director