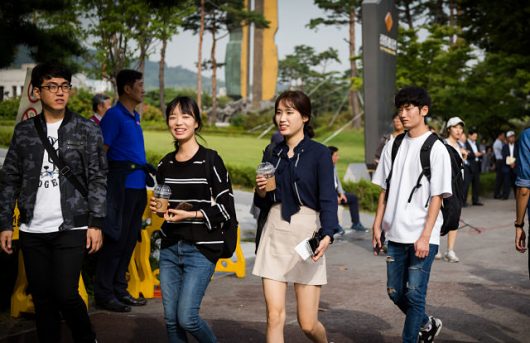 In an interview with BBC News, 16-year-old Hye-Min Park explains that her studious efforts are all in the name of achieving her dreams of becoming an elementary school teacher. Attending hagwons in South Korea is a part of that journey.
A day in the life of a South Korean Student
Park leaves her home for school at 7:30 a.m. which she attends until 4:00 p.m. She returns home for a quick bite, leaving again for private lessons at her hagwon from 6:30 p.m. until 9:00 p.m.
After her hagwon lessons conclude, she heads back to school for a study session until 11 p.m. Once she gets home, she continues studying until 2 a.m. Her alarm is set for 6:30 a.m. to wake up later that morning to do it all over again.
Despite seeming like a long and intensive day, Park explains that she is able to forget her hardships when she sees her efforts pay off in the form of good marks at school.
What is a hagwon?
Hagwons are for-profit private institutions throughout South Korea that students often attend in substitution of public kindergarten or preschool, as an after-school program and sometimes both.
Some have nick-named these institutions "crammers" as hagwons in South Korea typically teach a fast-paced curriculum in various subjects including English grammar, mathematics, fine arts and music.
Nearly 100,000 hagwons can be found throughout the country, and 95 percent of students have taken lessons from these institutions by the time they graduate high school.
The Cost
South Korean parents spent over $15 billion, or 18 trillion Korean Won, on private education annually. That's more than triple the average Organisation for Economic Co-operation and Development (OECD) country's expenditure on private education, and more than anywhere else in the world.
The hagwon structure may be evolving the educational system, acting as a market in which supply and demand rule all.
Three-quarters of Korean students prefer their hagwon lessons to their day school classes. Sohn Kwang Kyun, a math teacher at Sky Education (a top-grossing hagwon), thinks this is because hagwons are consumer-oriented. Hagwon lessons match students' abilities with the appropriate lessons and pace.
Choi Jung Yoon is also a teacher at Sky Ed. Yoon believes that the preference towards hagwons is also because they are elective; because students elect to take them, they are more engaged.
But how optional are they? The importance of gaining admission into top universities fuels the demand for supplementary lessons from private institutions like hagwons. Further, increasing competition may necessitate hagwon attendance.
The price of hagwons may come at another cost: a loss of interest and motivation in the formal education system and increased stress.
Self-harm was the number one cause of premature death in 2016. Self-harm claims approximately 900 lives annually and continues to be the second leading cause of death for adolescents and young adults under 30. Depression and anxiety disorders rank fourth and ninth, respectively, for health problems causing the most disability.
Hagwons in South Korea is designed to enhance students' cognitive abilities and contribute to South Korea's admirable reputation of educational devotion. However, the added responsibility may also add pressure on Korean students and compromise their mental health.
– Sloan Bousselaire
Photo: Flickr
https://borgenproject.org/wp-content/uploads/The_Borgen_Project_Logo_small.jpg
0
0
Kim Thelwell
https://borgenproject.org/wp-content/uploads/The_Borgen_Project_Logo_small.jpg
Kim Thelwell
2017-10-25 01:30:50
2020-04-03 13:31:04
Hagwons in South Korea