5 Facts About Hunger in Haiti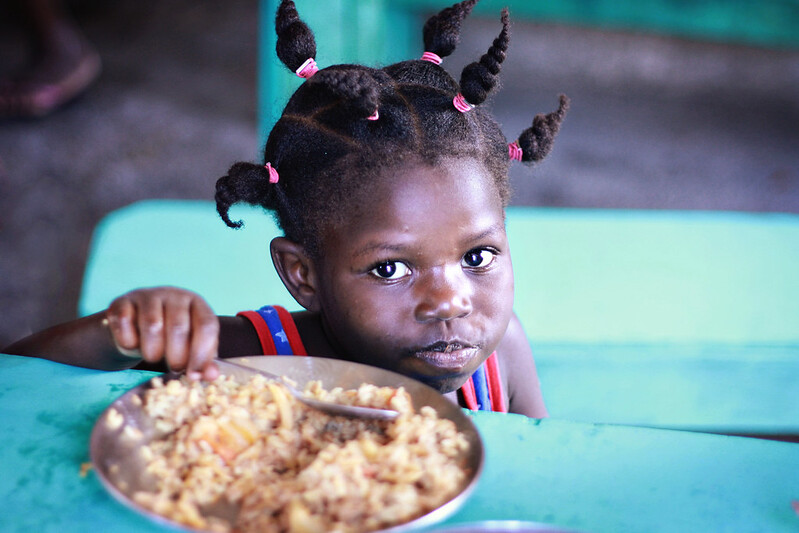 Haiti, a Caribbean country with a population of more than 11 million, is one of the most food-insecure countries in the world. Political and economic crises, combined with natural disasters and extreme weather events, have contributed to the rise of poverty and hunger in Haiti. About 1 million Haitians are severely food insecure, and more than one-fifth of Haitian children are chronically malnourished. Here are five facts about hunger in Haiti.
5 Facts About Hunger in Haiti
Haiti is one of the most impoverished countries in the Americas. According to the World Food Program U.S.A., almost 60% of the Haitian population lives below the poverty line and 25% of it experiences extreme poverty. Furthermore, more than 5 million Haitians earn less than $1 per day. This means that about half of the population cannot afford to buy food and other necessities. The hunger crisis is most prevalent in regions with the highest levels of poverty, particularly in the northwest.
One-third of Haiti's population is in urgent need of food assistance. Around 3.7 million Haitians did not have reliable access to adequate food in 2019. According to the United Nations, this number increased from 2.6 million in 2018. In 2019, the U.N. Office for the Coordination of Humanitarian Affairs (OCHA) stated that, without immediate food assistance for Haitian people living in poverty, "1.2 million people will only be able to eat one meal every other day and about 2.8 million people might eat just one meal a day" in 2020.
Frequent natural disasters and droughts contribute to widespread hunger. Haiti is one of the most weather-affected countries worldwide. In 2010, a magnitude 7.0 earthquake had a huge negative impact on food security in the region. In 2016, Hurricane Matthew was devastating for Haiti's agricultural production and its citizens. It caused more than 800,000 people to require immediate food assistance. Severe droughts have also decreased agricultural production and left more people hungry and malnourished in recent years.
Political instability and poor economic conditions have decreased the accessibility of food aid and caused food prices to rise. In the last year, political gridlock and corruption have created obstacles to the distribution of food aid, according to Global Citizen. Protests in major cities, violence and the economic recession have caused businesses and schools to close, blocking many citizens from access to affordable meals and food assistance. Also, in 2019, the cost of staple foods like rice, wheat flour, sugar, vegetable oil and beans rose by about 34%.
Climate change and the COVID-19 pandemic are likely to exacerbate the hunger crisis in Haiti. As a small island state, Haiti is particularly vulnerable to the effects of climate change. Rising sea levels can bring about devastating floods. More frequent extreme weather events can devastate significant parts of the country's agriculture and infrastructure. Therefore, climate change poses a significant threat to food security and agricultural production in Haiti. Unfortunately, this threat will only increase in future years. The COVID-19 pandemic also threatens to raise inflation further, increasing the prices of staple foods. Haiti imports about 80% of its rice, so the pandemic's impact on global supply chains could further restrict access to staple foods.
Solutions
As the hunger crisis in Haiti continues to grow, multiple organizations have implemented programs to provide food and financial assistance. For example, the World Food Program U.S.A. delivers meals to 1,400 Haitian schools every day. This program benefits students in 1,400 schools, and the Haitian government plans to take over the initiative by 2030. Feed the Children also provides school meals, including three hot meals each week, in an effort to reduce hunger and motivate students to prioritize their education. While these student-focused food assistance programs help reduce malnourishment and hunger, they also motivate children to continue pursuing an education.
Furthermore, the United States has provided more than $5.1 billion to Haiti since the 2010 earthquake. In the last 10 years, U.S. assistance has helped fund food security programs, increase crop yields and improve child nutrition in Haiti. OCHA hopes to receive $253 million in humanitarian aid for Haiti in 2020. With the financial assistance they urgently need, impoverished Haitians can better prepare for natural disasters. They can also gain reliable access to sufficient food. Both of these necessities will be more necessary than ever in 2020 and beyond.
Overall, these facts about hunger in Haiti show that it is a growing issue that affects millions of people. Now, the current COVID-19 pandemic is amplifying this problem. However, with humanitarian aid and food assistance from NGOs and members of the international community, including the United States, food insecurity in Haiti can reduce.
– Rachel Powell
Photo: Flickr
https://borgenproject.org/wp-content/uploads/logo.jpg
0
0
Kim Thelwell
https://borgenproject.org/wp-content/uploads/logo.jpg
Kim Thelwell
2020-06-17 01:30:30
2020-06-15 12:20:52
5 Facts About Hunger in Haiti