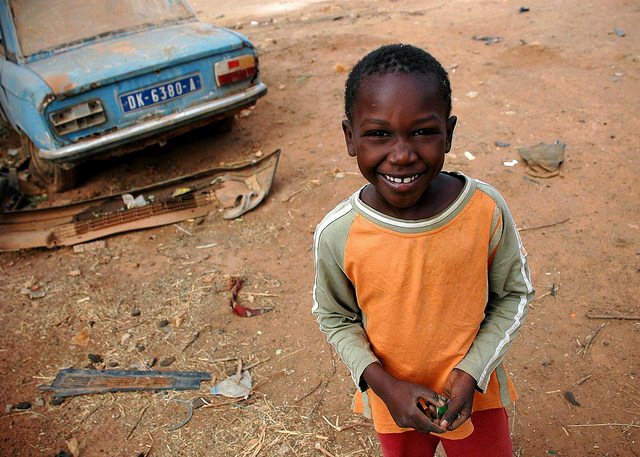 Sitting on the Northwest coast of Africa, the tiny country of Senegal is home to one of the most stable and liberated democracies on the continent. Despite its high unemployment and fertility rates, the World Bank classified Senegal as the second fastest growing economy in 2015—with a consistent annual economic growth rate of 6.5 percent.
Senegal's youth population is exceptionally large, with those 14 and under accounting for 41.5 percent of the total population. Historically, Senegal has struggled with the prospect of developing human capital. The high influx of youth coupled with widespread poverty has left more than 40 percent of the total population illiterate in recent years.
Education in Senegal is free and compulsory until the age of 16. Since 2000, the nation has made significant headway in improving primary school enrollment rates— raising it from 69.8 percent to a steady 92.5 percent in 2009. However, the difficulty is in retaining students: many are discouraged from continuing education after the primary level because of untrained staff, challenging school environments and resource shortages.
The majority of teachers come in for short spurts of time as volunteers or directly out of their own schooling. More often than not, their lack of experience prohibits a comprehensive instruction of the syllabus, and the students fall unwittingly behind—unable to make up for their academic shortcomings within the necessary time frame.
Beyond this, teachers' unions are continuously dissatisfied with their payment plans, benefits and work environments. Getting an education in Senegal often means dealing with strikes and other union collaboration that disturb the school year—leading to large, unnecessary gaps in the child's education.
Due to such incidences, the overall achievement rate of secondary school graduates is only 50 percent, despite the public school system having a steady gross enrollment rate of 90 percent.
The struggle to continue education in Senegal past the elementary stage is most pressing for females, many of whom are removed from the system after physical developments and with the argument that it is vital to work within the home.
In 2010, UNICEF shared the story of Aisatou Ba, a young girl who was removed from school at the age of eight to work as a maid. Though she understood the imperative of schooling, the economic pressure placed upon her family made her capacity to augment income a priority.
Stories such as Ba's run rampant throughout the rural parts of this nation, where surveys illustrate that school attendance from the 'richest' households is twice that of the poorest households. This means, even though education in Senegal is free, to many, it remains inaccessible. Even for those who wish to pursue secondary education, lack of resource makes it impossible to make each establishment equitable.
On top of this, statistics show that not only is the rate for girls in secondary school less than one in five, the literacy rate of women to men later in life is 6:10.
Furthermore, students are judged by their previous academic efforts and are forced to compete for a desk at a secondary school. Those who may not have performed well in their first six years of schooling—many of whom are victims of the uneven balance between familial obligations and school attendance—may even be placed in to a class size of 80 students to one teacher.
The cycle of poverty is perpetuated by this system: impoverished students slip out of the educational system without a second glance.
In 2003, the World Bank, in collaboration with the Global Partnership for Education, launched a project in Senegal by the name of Quality Improvement and Equity of Basic Education. The intention is to improve the educational environment at the primary school level, implement mathematics and science classes into the secondary schools and build institutions that are accessible to children in underserved areas.
This project will help provide more thorough instruction to the children already attending school. Futhermore, by bringing schools to poorer areas, it will mobilize impoverished children to seek the free education necessary to transform their lives.
– Briana Fernald
Photo: Flickr
https://borgenproject.org/wp-content/uploads/logo.jpg
0
0
Borgen Project
https://borgenproject.org/wp-content/uploads/logo.jpg
Borgen Project
2017-10-28 01:30:05
2020-01-10 12:28:36
Education in Senegal