10 Facts About Childhood Pneumonia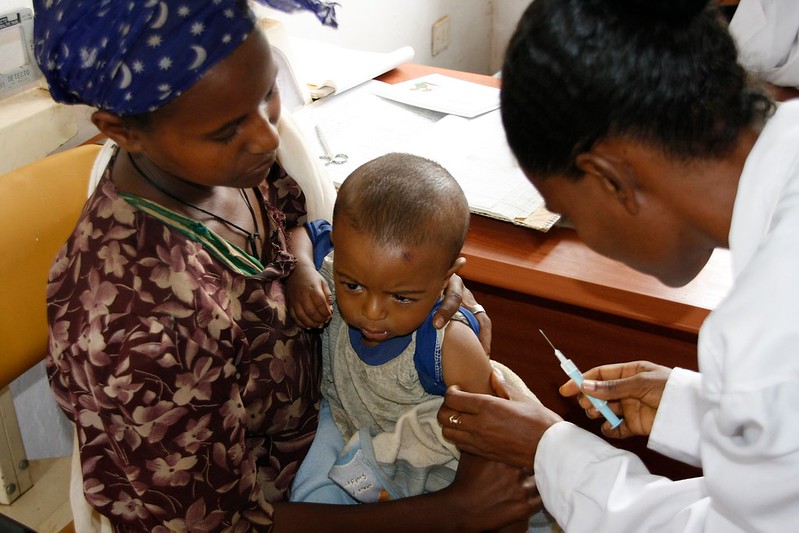 One of the most common diseases globally, pneumonia can be a silent killer when it infects children under 5. In the developing world, rates of childhood pneumonia cases and deaths are still high despite decreasing in other childhood diseases. However, due to new research and outreach programs to aid developing countries, those numbers may soon fall.
10 Facts About Childhood Pneumonia
Various sources cause the disease. Unlike many other diseases that come from a single source, pneumonia is the name for the lungs' acute response to an airborne pathogen. While pneumonia can develop from bacteria, viruses or fungi, the most common cause for children is the bacteria S. pneumoniae. The bacteria typically live in the lungs without harming the body, but the body develops pneumonia to kill the bacteria when it begins to spread.
Childhood pneumonia mainly infects children under the age of 5. While people of all ages can develop pneumonia, children under the age of 5 are especially susceptible to the infection. Since their immune systems are not fully developed, their bodies are more likely to trigger a response to a foreign agent's presence in the respiratory system, leading to pneumonia. These infection rates only increase in developing countries, where children are more likely to be born either malnourished or with a disease that they acquired in utero such as HIV.
Pneumonia is a leading cause of death in children. Although pneumonia is often easy to treat and cure in developed countries, it can be fatal in developing countries. According to the United Nation's Children's Fund (UNICEF), childhood pneumonia kills over 800,000 children each year in comparison to 437,000 from diarrhea and 272,000 from malaria. These deaths are typically in children who are malnourished or have other conditions such as HIV that impair the immune system.
South Asia has the greatest incidence of childhood pneumonia. Out of every 100,000 children in South Asia, approximately 25,000 will develop pneumonia each year. However, the majority of these cases — approximately 36% — occur in India. Studies looking into the potential causes for the increased number of cases have found that overcrowding in housing with inadequate ventilation allowed the disease to spread among families. Without effective airflow, children in those households continue to breathe in potentially infected air, increasing their chances of developing pneumonia.
Air pollution increases pneumonia rates. Although a child needs to have exposure to the biological cause of pneumonia to develop the disease, certain environmental factors can increase infection likelihood. In India, a country with one of the worst-rated air qualities in the world, particles of smoke and other forms of pollution in the air weaken lungs when inhaled, making it more likely for a young child to develop pneumonia. These conditions of outdoor air pollution causes approximately 17.5% of all pneumonia deaths in the developing world.
The disease is treatable. With antibiotics or antifungals (depending on the cause), children with pneumonia can recover from the disease. However, this treatment is dependent on the resources available in the country where the child lives. In developing countries such as Nigeria — the African country with the highest pneumonia rates in children — only one in three children with pneumonia symptoms can receive treatment due to the lack of available medicines and other medical resources.
Some are producing vaccines. Although vaccines cannot treat viral pneumonia, they are still an important asset in preventing it. However, most of the produced vaccines are only available in developed countries where doctors recommend them for children under 5. In developing countries, nearly 10 million children are unvaccinated. Through the World Health Organization (WHO), many countries have received vaccines, although there has been great variation between regions of the world. While WHO's South-East Asian Region has 89% coverage, its Western Pacific region only has 24% coverage.
Less progress has occurred regarding childhood pneumonia. While research on pneumonia as a whole has increased over the past decade, there has been much less progress on childhood pneumonia in comparison to other childhood diseases. Since 2000, deaths for those under 5 from pneumonia have decreased by 54%, while deaths from diarrhea have decreased by 64% and are currently half the number of childhood pneumonia deaths.
Large organizations are helping. Among other large, international organizations, the Gates Foundation has taken efforts to reduce childhood pneumonia rates in developing countries. One of its main methods is the continued distribution of vaccines to children and families in South Asian and Sub-Saharan Africa, specifically India and Nigeria. So far, the organization has sent vaccines to over 37 countries in those regions of the world, slowing transmission and infection rates in those areas.
Rates will continue to drop in the future. Although the number of childhood pneumonia cases each year have not dropped as much as other diseases, long-term progress is still ongoing. If the current level of progress toward eradicating the disease continues, UNICEF predicts that it will save 5.9 million children. At the same time, if resources towards the effort increase, that number will increase to nearly 10 million.
UNICEF and WHO do not expect to meet their goal of eradicating childhood pneumonia until 2030. However, the progress they and many others are currently initiating is making a difference. Soon, pneumonia will become an extinct disease in the developing world so that it will never harm another child.
– Sarah Licht
Photo: Flickr
https://borgenproject.org/wp-content/uploads/logo.jpg
0
0
Lynsey Alexander
https://borgenproject.org/wp-content/uploads/logo.jpg
Lynsey Alexander
2020-12-02 07:30:22
2020-11-30 13:37:54
10 Facts About Childhood Pneumonia