Reintegrating Child Soldiers in Iraq for a Peaceful Future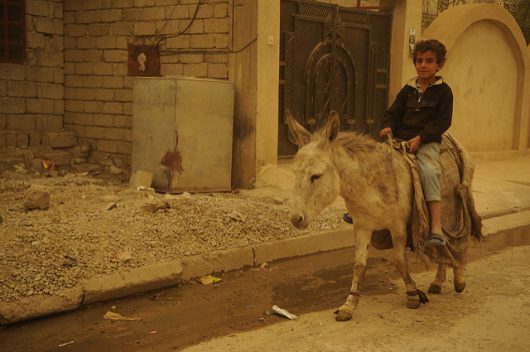 With the war against ISIS in Iraq officially declared over by the Iraqi government in December, efforts on the ground have now begun to focus on rebuilding the lives of the Iraqi people. Of particular concern is the rehabilitation and reintegration of child soldiers in Iraq, the young "cubs of the caliphate" trained by ISIS and indoctrinated with its ultraviolent ideology.
What Has Happened to Child Soldiers in Iraq?
It is estimated that over the past four years, at least 2,000 minors underwent military training in ISIS camps, learning to use light and medium weaponry and function as effective cogs in the ISIS machine. Yet what may be most distressing is not the technical training these children received, but rather the ideological indoctrination.

The indoctrination that took place in ISIS sponsored schools and training camps instilled these children with extremist beliefs and sought to normalize acts of violence and killing. The result, ISIS hoped, would be the creation of the jihadists of the future, a group of fighters steeped in the ultraviolent ideology of ISIS and capable of waging a holy war for generations.
It is this deeply seated indoctrination into extremism, experts fear, that may pose a grave threat to the future stability of Iraq. With the end of the war and a return to normal life, many foresee the violent indoctrination of ISIS preventing these children from reintegrating into society and leading normal lives. With an intentionally violent and radical worldview, it is possible that many child soldiers will return to their towns highly radicalized, facing the discomfort of a worldview which does not match reality.
Besides being radicalized, many of these former child soldiers in Iraq also suffer from psychological trauma derived from a childhood of violence and warfare. For many, it is all they know and it is this mindset geared toward violence that has no place in normal life that could isolate them from their friends, families and peers. The resulting isolation caused by their inability to properly reintegrate may then make them more vulnerable to crime or further acts of extremism.
Why is Reintegration So Difficult?
Now that the process toward normalization has begun for many Iraqis, the question facing towns, families and NGOs is how to welcome back the former child soldiers in Iraq. There is no doubt that the task is monumental, as in many places there are no jobs available and professionals needed for psychological rehabilitation remain few and far between.
The complexity of the situation in Iraq remains a hazard to successful reintegration as well. In some territories which were held previously by ISIS, families who were sympathetic to the Caliphate gave their children up willingly and the child may continue to be indoctrinated when he or she returns home. It is also no secret that many Iraqis hold a grudge against former ISIS members and would deny them treatment and reconciliation.
What is Being Done?
Yet with peace becoming a reality, there is real promise for a brighter future for these former child soldiers in Iraq. Programs demobilizing and reintegrating child soldiers have been successful in countries such as Sierra Leone and Afghanistan. Such programs began by clearing the environment of weapons, then identifying former child soldiers who needed special care. Next, focus was placed on empowering these children with a feeling of belonging and re-establishing societal and familial links to reintegrate them.
Local citizens are also taking matters into their own hands to re-educate former child soldiers in Iraq. In Mosul, for instance, a group of Muslim law sages has begun preaching a moderate brand of Islam with the intent to promote peace and reconciliation.
What remains clear is that reintegrating child soldiers in formerly held ISIS territory will be a difficult, long term process, one which needs attention from the highest authorities inside and outside Iraq. If Iraq is ever to be war free and at peace, this challenge must be addressed and reconciliation and reintegration of child soldiers must be made a priority to end the cycle of violence.
– Taylor Pace
Photo: Flickr
https://borgenproject.org/wp-content/uploads/logo.jpg
0
0
Kim Thelwell
https://borgenproject.org/wp-content/uploads/logo.jpg
Kim Thelwell
2018-06-26 07:30:57
2019-10-06 19:05:58
Reintegrating Child Soldiers in Iraq for a Peaceful Future