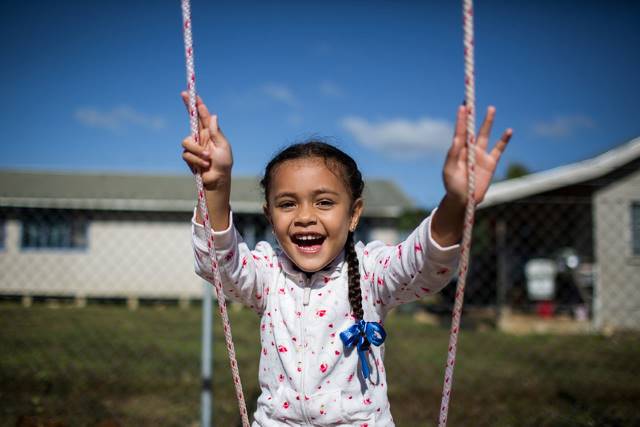 Tonga is a lower-middle-income Polynesian kingdom known for its 172 islands, 36 of which are permanently inhabited. Although child poverty in Tonga has greatly reduced, it remains a significant issue. Poverty continues to affect the children of Tonga in particular.
In 2015, 22.1% of the Tongan population lived below the poverty line. To put this into perspective, 4% of the Tongan population live on less than $1 daily and 6.7% of households fall below the dietary poverty line. Therefore, many families are unable to financially cover the cost of their daily food needs. Alarmingly, in most countries, there is a larger percentage of children in poverty than adults. This holds true with child poverty in Tonga, where 36% of children (~12,000 children) live in poverty compared to around 22% of adults (~63,000 adults). Poverty can impact multiple aspects of a child's life, including their education and health. Consequently, many children in Tonga face disadvantages on account of poverty.
Education
First, children are dropping out of school to support their families as a result of child poverty in Tonga. Around 8% of children live in a household that cannot afford to provide three meals a day for all their children, while 13% cannot afford daily fruit and vegetables.
When the most vulnerable families cannot afford food, they simply live off their own produce. As a result, children must drop out of school to work in fields and plantations. Regardless of Tonga's excellent education record, students from impoverished backgrounds often remain in their parent's positions to survive.
By missing the opportunity to receive an education, children feel the effects of poverty for a lifetime. Thankfully, Tonga's government implemented the Tonga Education Support Program, which seeks "equitable access" and "universal basic education" for its children.
Nutrition and Obesity
Second, the cases of obesity and other non-communicable diseases in children are increasing. According to 2016 estimates, 17% of Tongan children are overweight. While data on childhood obesity is more limited, a 2010 school-based survey found that one in five surveyed students were obese.
Nutritious food and regular time intervals for children's meals are necessary components of developmental health, which impacts children's ability to live up to their potential as adults. Even with groups such as the Ma'alahi Youth Project, which aims to decrease rates of child obesity, a study found that community-based intervention is not sufficient in preventing the increase of unhealthy weights. Longer and more intense changes are necessary on a sociocultural level.
Illness
Third, children are at risk of communicable diseases. WHO Global Health Observatory data show gaps in immunization coverage for all 12 universally recommended vaccines in Tonga. Data reveals a downward trend in immunization rates for some vaccines. This could reflect either a reduction in uptake or access issues. From 2000 to the present day, WHO recorded a 10% decrease in rates for several vaccinations. Prescribed medication also provides a monetary barrier.
Additionally, a lack of basic sanitation, hygiene and safe drinking water is an issue of mortality in the Pacific region. This tends to contribute to the spread of water-related diseases like diarrhea and impedes child development. There is growing evidence that clean water and sanitation facilities at home and in schools can improve school attendance and even learning outcomes for boys and girls.
Key deficiencies have been filled with funding from the Australian Aid-funded Tonga Health Systems Support Program (THSSP), which helps address critical staff deficiencies and stipulates that the Ministry of Health focuses on preventative measures. Thankfully, data shows that improvements are visible. In 2012, nearly one in four children lived in a household that could not afford their prescribed medication. Today, 15% of children live in such a household, a decrease of 10%.
The decrease in child poverty in Tonga can, in part, be attributed to the community-level organizations fighting poverty in Tonga. The largest is the Tonga Family Health Association, followed by 'Aloua Ma'a Tonga, Vaiola Hospital Board of Visitors and Tonga Red Cross. They aim to provide health services directly to households through financing, training and education. Despite moderate success, child poverty in Tonga persists. It seems additional work is needed to successfully eradicate poverty in what is known as "The Friendly Islands."
– Elizabeth Qiao
Photo: Flickr
https://borgenproject.org/wp-content/uploads/logo.jpg
0
0
Jennifer Philipp
https://borgenproject.org/wp-content/uploads/logo.jpg
Jennifer Philipp
2021-01-14 01:30:17
2022-04-23 06:12:08
Child Poverty in Tonga