A Peace of Pizza in Africa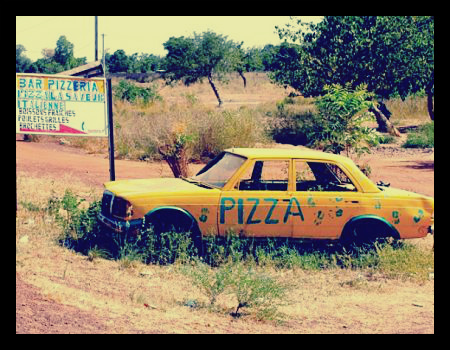 When most of us grab a quick slice of pizza, we don't think twice about it. For the villagers of Fada N'Gourma, however, a slice of pizza in Africa means so much more than satisfying hunger or a late-night craving.
Claudio Vanni, from the Italian foundation "Heart Melts", has established 3 pizzeria-bakeries in the small West African country of Burkina Faso. Workers from Heart Melts construct the restaurants, bring in all the technical resources and machinery, and train the employees, who are mostly youth coming in from the villages. The average pizzeria brings in about 20,000 euros in revenue which is used to fund other investments, including a carpentry school nearby.
These pizzerias have provided an ample source of job training and have helped modernize the small village in this uniquely peaceful country. While thousands of Malians flee to refugee camps in the northern region in Burkina Faso, the rest of the country is slowly bringing itself up on its feet and out of poverty.
Burkina Faso lies between Ghana, Niger, and Mali; countries that are of no shortage of civil strife. For those living in Burkina Faso, they experience a much different reality of religious freedom, with over 62 different ethnic groups living together in relative peace.
Projects such as Vanni's pizzeria will not only help create jobs and a sense of self for the villagers but more importantly, will ensure that Burkina Faso remains a peaceful nation despite its struggling neighbors. "If this country explodes with ethnic and religious hatred like in Mali, Niger, Uganda…all of Western Africa will be ablaze," says Monsignor Andre Cristiani, founder of the Shalom Movement. M. Cristiani found that when outside agencies and efforts are brought in such as Heart Melts, it gives Africans a change to 'learn and do' and not simply 'take'.
Months after the conference "L'Africa sviluppa l'Africa" ("Africa Developing Africa"), this pizzeria is yet again another illustration of the age-old proverb "give a man a fish, and you feed him for a day; teach a man to fish, and you feed him for a lifetime". The Shalom Movement prides itself on the belief that Africa has all the internal power and passion it needs to bring itself out of poverty.
With ventures like "Heart Melts", a world of opportunities is created; not just for job training, but also for community growth, self-purpose, and peace.
– Deena Dulgerian
Source: World Crunch
https://borgenproject.org/wp-content/uploads/logo.jpg
0
0
Borgen Project
https://borgenproject.org/wp-content/uploads/logo.jpg
Borgen Project
2013-02-23 20:25:36
2020-05-11 04:00:26
A Peace of Pizza in Africa