Top 10 Facts About Hunger in Nepal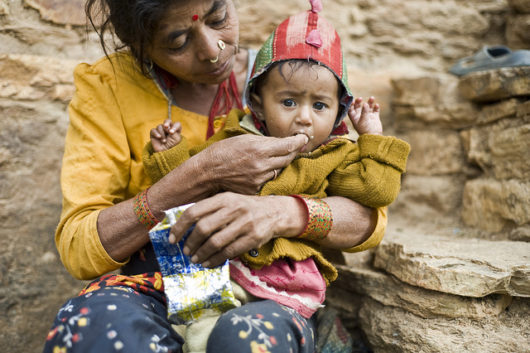 Nepal, located in the Himalayas and parts of the Indo-Gangetic Plain, boasts eight of the world's 10 highest peaks, ancient golden temples and a very rich history. However, this South Asian country also suffers from high rates of poverty, and as a consequence, hunger. Malnutrition rates are among the highest in the world. In the text below, the top 10 facts about hunger in Nepal are presented.
Top 10 Facts About Hunger in Nepal
One in four people in Nepal lives below the national poverty line that is just 50 cents per day. People that live under the poverty line do not have enough money to meet their basic needs like food, clothing and shelter.

Those who live in mountainous, more rural areas are the most likely to suffer from poverty and hunger that affects the country.

The 2016 Global Hunger Index (GHI) found that 7.8 percent of Nepal's population was undernourished. Nepal is ranked 72 out of 118 countries in the GHI, and the report rates Nepal's hunger at 21.9, which falls into the category of serious. However, these numbers are lower than they have been in past years since 2000, GHI ranked Nepal's hunger at 43.1.

Sustainable Development Goal 2 (SDG 2) which is Zero Hunger, is a very important goal for the country. The prevalence of malnutrition among children under the age of 5 was 9.7 percent in 2016.

According to The World Health Organization (WHO), stunting is defined as "the impaired growth and development that children experience from poor nutrition, repeated infection, and inadequate psychosocial stimulation." Children can be viewed as stunted if their height-for-age is more than two standard deviations below the WHO Child Growth Standards median. 

More than 35 percent of children under the age of 5 in Nepal are stunted, according to the research done in accordance with SDG. 

Agriculture provides work to 68 percent of Nepal's population and accounts for 34 percent of the country's GDP, yet food is in low supply for Nepali citizens.

Nepalese children who are stunted suffer from a variety of severe mental and health issues, especially in the first 1,000 days of their lives. These issues can reflect on their adult life, specifically on poor cognition, nutritional issues and even low wages.

Feed the Future, the U.S. government's global hunger and food security initiative have been very successful in its work in Nepal. Since 2011, there has been a 24 percent increase in the prevalence of children younger than the age of 2 receiving a minimum acceptable diet.
The government and the U.N.'s Food and Agriculture Organization (FAO) introduced the Zero Hunger Challenge in 2014, with the goal of eradicating all hunger issues in Nepal by 2025.
The Zero Hunger Challenge consists of five goals:

All food systems are sustainable: from production to consumption.
An end to rural poverty. Double small-scale producer incomes and productivity.
Adapt all food systems to eliminate loss or waste of food.
Access adequate food and healthy diets, for all people, all year round.
An end to malnutrition in all its forms.
Many experts that the above-mentioned goals of Zero Hunger Challenge are unlikely to be met by 2025.
These top 10 facts about hunger in Nepal presented in the text above illustrate that the country has made a lot of progress in its goals to eliminate hunger, but it still has a long way to go. The joint efforts of the government and nongovernmental organizations can certainly be the key to eradicating poverty and improving the economic situation in the country.
– Evann Orleck-Jetter
Photo: Flickr
https://borgenproject.org/wp-content/uploads/logo.jpg
0
0
Kim Thelwell
https://borgenproject.org/wp-content/uploads/logo.jpg
Kim Thelwell
2018-11-12 01:30:44
2019-05-21 14:34:33
Top 10 Facts About Hunger in Nepal