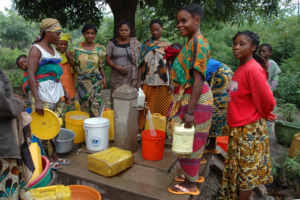 The Democratic Republic of the Congo (DRC), a country located in Central Africa, has been the victim of oppression, colonization and enslavement by European nations dating back to the year 1890. Violence and war continued for decades as a result. The Central African country currently lacks some essential sanitation resources, which has led to the spread of diseases such as cholera within the nation. Part of this is because half of the people of the DRC receive improved drinking water from wells and public standpipes. Here are 10 facts about sanitation in the DRC.
10 Facts About Sanitation in the DRC
In 2018, only 29 percent of people in the DRC had access to basic sanitation services. There is 42 percent of people in the DRC currently using unimproved methods of sanitation. This includes pit latrines and bucket latrines.
In the Democratic Republic of the Congo, there is an indisputable crisis in the availability of clean and pure drinking water. UNICEF reports that despite the fact that 50 percent of Africa's water reserves exist there, there are still millions of people living without pure drinking water. In fact, more than half the population of the DRC lacks clean drinking water.
Many people and schoolchildren have benefitted from the national program, Healthy School and Village. This national program aims to provide clean drinking water to villages in Africa to prevent diarrheal diseases. Waterborne diseases, like cholera, claim the lives of thousands of people of the DRC per year. UNICEF reports that as many as 7 million people and 983,000 schoolchildren have seen an improvement in their quality of life from this program since 2008.
Women in the DRC and other sub-Saharan African countries are bearing the burden of having to deliver clean drinking water to their families. Women and girls in the developing world, such as the DRC, spend up to 90 percent of their valuable time collecting water. The women and girls in the DRC rarely finish their schooling due to this need for water. In the DRC, the participation of boys in the secondary school system has been 25 percent higher than girls since 2009.
In 2011, a program called We Are Water successfully raised 20,000 euros in an effort to give accessible drinking water to the DRC. The program estimates that with the funds raised, it will be able to minimize the cholera epidemic. It is giving 20,000 people from 30 different villages clean water to drink and maintain their hygiene. This will only increase the efforts for creating better sanitation in the DRC.
The U.N. Refugee Agency's Cash for Shelter project has given funds to people in the DRC so they may build their own homes with real functioning toilets. Most people can only dream of owning a toilet because they are living on a mere $2 a day. Through this program, they do not have to construct makeshift pit latrines. They can now create a sense of security and ownership for themselves. Since its inception in 2016, the UNHCR's cash-based interventions have reached more than 20 million people.
There are many initiatives that bring clean drinking water to the people of the DRC like Concern Worldwide. It has provided the village of Mulombwa with its very own water pipe, which has revitalized the village in so many ways. Throughout its 50 years, this program has reached 24.2 million people in 23 different countries.
The proportion of people drinking surface water, which includes contaminated lakes and rivers, was 11 percent, as of December 2018. The use of unimproved water sources like surface water is nearly universal in rural areas, according to the World Bank. Urban areas have 81 percent access to improved water sources, while it is as low as 31 percent in rural areas.
According to the World Bank, access to improved water, sanitation and hygiene services is low, improving only by 3 percent. In urban areas, however, access to water, sanitation and hygiene services is much higher.
There is a trend of constant outbreaks of cholera in various regions of the DRC due to contaminated drinking water. The infection can lead to severe dehydration and diarrhea which, if people leave unchecked, could lead to death. From November 2015 to February 2018, there were 1,065 cases of cholera in the capital Kinshasa alone, according to the World Health Organization. Of these 1,065 cases, there were 43 confirmed deaths.
The Democratic Republic of the Congo has seen little improvement in water quality and sanitation services. Thankfully, people and organizations are consistently working on improving everyday life for the people of the DRC. Whether it be funding Congolese families to have a functioning toilet in their homes or building a protected well for an entire village, there are several ways these organizations can make an impact
– William Mendez
Photo: Flickr
https://borgenproject.org/wp-content/uploads/The_Borgen_Project_Logo_small.jpg
0
0
Kim Thelwell
https://borgenproject.org/wp-content/uploads/The_Borgen_Project_Logo_small.jpg
Kim Thelwell
2020-01-27 01:30:01
2020-01-24 13:42:55
10 Facts About Sanitation in the DRC