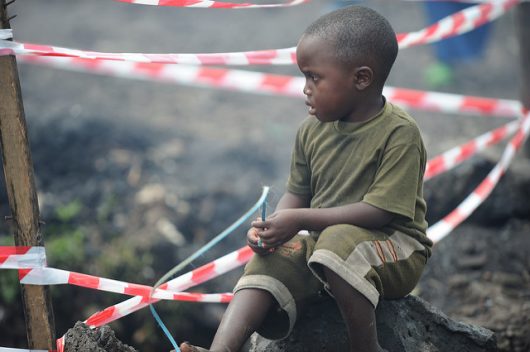 Over three billion people live on less than $2.50 per day, showing that poverty remains a top global issue. Every country has a poverty line, which is the level of personal or family income below which one is considered poor by government standards. While there are a handful of countries with extreme poverty, there are others that have maintained the poverty line within their country.
Poverty Rates
According to the Huffington Post, factoring poverty rates is a mixture of art and science. When coming up with a country's poverty line, the measurement of wealth and distribution has to coincide with the cost of living rates or price purchase parity adjustments. In other words, someone who may be perceived as poor in the United States can be considered wealthy in another country. The global quantification of extreme poverty is categorized differently than middle- and upper-income countries.
Countries with the Highest Poverty Line
The Dominican Republic of Congo: Despite the most recent decrease in DRC's poverty rate, 71 percent in 2005 to 64 percent in 2012, the DRC remains one of the poorest countries in the world. The United Nations has estimated that 2.3 million people living in the DRC are poor and living in refugee camps. Due to the detrimental political corruption, the people of DRC continue to suffer for minimal necessities. The nutritional statistics of DRC are extremely low and health conditions are severe. Stunting, wasting, immunization coverage, drinking water conditions and diseases are just a few examples of matters that need to be taken seriously to solve these conditions.
The Central African Republic: As of 2008, the poverty rate for the Central African Republic stood at 66.3 percent and not much has changed. Although this is a healthy decrease from 84.3 percent in 1992, a majority of the countries' population lives on less than $1.90 per day. To many, the Central African Republic may appear to be the land of diamonds, but it remains one of the poorest countries in Africa and the world. With a low population count of five million people, most of them are living without food, sanitation and decent housing. Every year, the Central African Republic only brings in $750. The Central African Republic's issues reside from civil conflict, diseases and lack of infrastructure for schools and jobs. With minimal annual income, jobs are scarce and in high demand.
Countries with the Lowest Poverty Line
Finland: With a low poverty rate of 5.5 percent, Finland has one of the lowest poverty lines in decades, although the risk of poverty for many residing in Finland is the highest it's ever been. There's a secret to Finland's success story: employment, education and parenting take priority. In addition, Finland is committed to improving education and healthcare. It is generous with welfare and possesses a low infant mortality rate, good school test scores and an extremely low poverty rate. Finland is considered the second happiest country on earth, falling second to the United States.
The Czech Republic: About 9.7 percent of the Czech Republic's population live below the poverty line. Of all the European Union member states, Czech has the lowest amount of people threatened by poverty. In comparison to the average rate of 17 percent for the eurozone, Czech is doing pretty well for itself. Czech's high-income economy is primarily based on the revenue it receives from its auto industry. This still remains its largest single industry, accounting for 24 percent of Czech's product manufacturing. Czech's wealth is due to its successful trading system.
Poverty lines will continue to be a global issue until countries ally to reduce the gap in socioeconomic status. Without the rich, there would be no poor. Even within impoverished areas of the world, there are different levels of poverty and what one can afford. Unity and prioritizing citizen's needs is a necessity to promote change in poverty lines.
 – Kayla Sellers 
Photo: Flickr
https://borgenproject.org/wp-content/uploads/logo.jpg
0
0
Borgen Project
https://borgenproject.org/wp-content/uploads/logo.jpg
Borgen Project
2018-09-03 01:30:09
2019-08-14 11:42:23
Poverty Line Breakdown