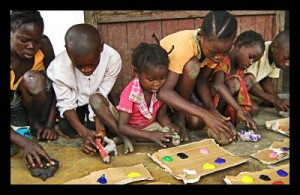 The Democratic Republic of Congo (DRC) often brings to mind images of conflict, famine, and disease. It is about as an unlikely home for the arts as one could find, and yet the Institute for Human Activities (IHA) aims to make it just that.
Its project is designed to bring art to the jungle and keep it there. As part of a partnership between Yale University, University College Ghent and the Akademie der Künste der Welt in Cologne, the Institute set up shop beside a palm oil plantation in the heart of the rainforest.
It calls the effort an experiment with gentrification. The problem as they see it is that the art created about (or for) disadvantaged areas of the world such as the DRC is shipped off to cosmopolitan Western cities like New York and London and is not received in its native land.
The IHA believes by keeping the arts in the community, a culture can be transformed economically and intellectually from the bottom up.
In five years, the IHA hopes to have created an international arts center for artists and thinkers from around the globe to study, work and grow. Additionally, it hopes to continue researching the affects of keeping art near its source as opposed to exporting it to the West.
They claim art has the economic power to power investment and business around areas of cultural capital such as galleries and theaters. For the DRC and nations like it, this means that starting with cultural and artistic development might lead the way to economic and political stabilization.
This, undoubtedly, is a unique approach to solving the economic crises developing nations face in the process of modernization. However, the reason for keeping art at its source is not all economics.
The IHA website offers political reasons as well, arguing that "Art may expose the need for change in Nigeria or Peru, but in the end it brings opportunity, improved living conditions, and real-estate value to Berlin-Mitte or the Lower East Side," the point being that the political potency and relevance of the art is lost in the Western gallery.
The IHA may have only just begun its project in the DRC, but it is already grabbing international attention. If it proves to be successful, perhaps it will signal a new model in the development of some of the world's poorest nations.
– Chase Colton
Sources: Institute for Human Activities, The Huffington Post
Photo: The Culture Trip
https://borgenproject.org/wp-content/uploads/The_Borgen_Project_Logo_small.jpg
0
0
Clint Borgen
https://borgenproject.org/wp-content/uploads/The_Borgen_Project_Logo_small.jpg
Clint Borgen
2014-02-07 04:00:13
2017-01-25 10:52:44
International Arts in the Congo