Five Countries with Increasing Youth Literacy Rates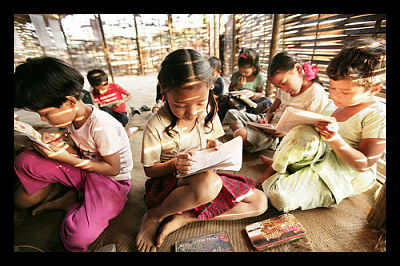 According to UNESCO, "Illiteracy and poverty constitute a mutually reinforcing vicious cycle that is difficult to break." Illiteracy reinforces poverty by precluding access to information. When people do not have the ability to read labels or technical manuals, they cannot develop the skills necessary to climb the socioeconomic ladder.
For a developing nation, a low literacy rate can be a major impediment to economic progress. The lack of a skilled work force prevents the development of a thriving economy. A 2012 study by the World Literacy Foundation estimated the economic cost of illiteracy in developing countries at over five billion dollars.
As the world continues to wage war on poverty, global education initiatives are winning key battles on the youth literacy front. In 2000, the U.N. established universal primary education as a Millennium Development Goal. While this ambitious goal has not yet been achieved, primary education enrollment in developing countries rose from 82 percent to 90 percent between 1999 and 2010. The gender gap in youth literacy continues to narrow, and the world youth literacy rate has improved markedly since 1990.
While there is still a long way to go in improving youth literacy in developing countries, these five countries are making huge strides.
Nepal: The youth literacy rate in Nepal — a scant 49.6 percent in 1990 — reached 83 percent in 2010 and is projected to reach 88 percent by 2015. Educational opportunities in Nepal have expanded considerably over the last two decades, and Nepal's net enrollment rate, or NER, in primary education rose from 91.9 percent in the 2008-2009 school year to 95.1 percent in 2011. The NER at the lower secondary level is rising even faster, climbing from 57.3 percent in 2008 to 70 percent in 2013. As of 2012, Nepal ranked as the 11th largest source of international students in the U.S.
Bangladesh: The youth literacy rate in Bangladesh has climbed at a similar rate to that in Nepal. Recognizing education as an important means of reducing poverty, the Government of Bangladesh passed the Primary Education Compulsory Act in 1990, making primary education free and compulsory for all children up to Grade Five. Since then, the youth literacy rate has risen from 44.7 percent to 77 percent.
Senegal: The youth literacy surge in Senegal is a fairly recent phenomenon. Senegal saw little improvement in its youth literacy rate from 1990 to 2000. However, since its 2001 constitutional referendum, Senegal has recorded significant achievements in access to education. Primary school enrollment rates increased from 69.8 percent in 2000 to 92.5 percent in 2009. Increased primary school enrollment has facilitated literacy improvement. The youth literacy rate in Senegal rose from 49.1 percent in 2000 to 69 percent in 2010, and is projected to reach 73.4 by 2015.
Ethiopia: Ethiopia, Africa's fastest-growing non-energy-driven economy, has made significant strides in youth literacy since the devastating famine of 1984. Ethiopia's youth literacy rate rose from a mere 33.6 percent in 1990 to 49.9 percent in 2000, and it is projected to reach 69.3 percent by 2015. USAID has played a key role not only in improving the managing and planning of Ethiopia's primary education system but also in improving access to education in remote areas. USAID, in conjunction with the Ethiopian Ministry of Education, also developed Reading for Ethiopia's Achievement Developed. READ focuses on training teachers and improving reading comprehension and writing proficiency.
Mozambique: In terms of primary education, Mozambique has made enormous progress since the 1992 resolution of its long and costly civil war. Educational opportunities have expanded rapidly in Mozambique since the mid-1990s, and enrollment in primary school has risen from 69 percent in 2003 to 100 percent. Mozambique's youth literacy was just 61.9 percent in 2000, but that number has risen steadily and is expected to reach 77.8 in 2015. While Mozambique's progress has been remarkable, continued progress is threatened by the recent resurgence of the RENAMO insurgency.
– Parker Carroll
Sources: The Guardian, UNESCO 1, UNESCO 2, UNICEF 1, UNICEF 2, USAID
Photo: UNHCR
https://borgenproject.org/wp-content/uploads/logo.jpg
0
0
Borgen Project
https://borgenproject.org/wp-content/uploads/logo.jpg
Borgen Project
2014-11-30 04:00:04
2020-07-23 18:02:08
Five Countries with Increasing Youth Literacy Rates