David Bowie and Iman's Philanthropic Activities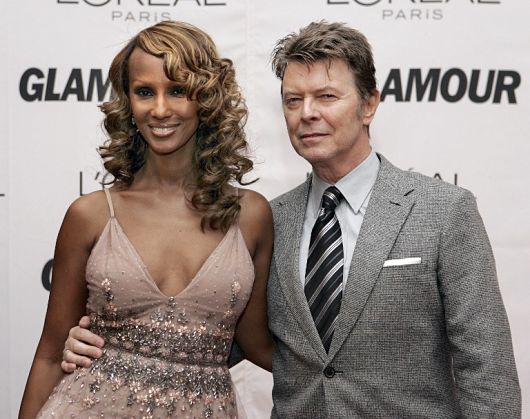 Having been married for two decades, supermodel Iman and heavy-rocker David Bowie have walked a consistent pathway in relieving several communities of hardships pertaining to third-world threats such as the harrowing HIV/AIDS threat.
In late 1990, the dynamic pair participated in a fundraising event, 7th on Sale, for the enhanced medical research in treating and curing AIDS. The pair would go on to serve as recurring donors and participants in foundations that conducted deep, thorough studies of the then-unknown sexual catastrophe throughout the remainder of the 90's.
But even with impactful collaboration in donor work as a married couple, the pair has never ceased in aiding disadvantaging areas on a separate, individual basis.
In 1998, Iman partnered with fellow philanthropist Missy "Misdemeanor" Elliott in a charitable cosmetic line, Misdemeanor Lipstick, where proceeds collected from each item sold were issued to the nonprofit Break the Cycle, an organization that works to minimize domestic hardships and abuse to help young children and teenagers to live safely.
Around this time, other philanthropic measures taken by the supermodel included her support for organizations alleviating the mistreatment against Somali native women, world hunger and HIV/AIDS-related crises. A majority of Iman's charitable endorsements were further supported through her organization IMAN Cosmetics, which supports the "Raise Hope for Congo Campaign," an initiative aimed at protecting and empowering Congolese women and girls.
With his spouse generating similar awareness, David Bowie has headlined global concert tours that assist in the betterment of drastic illnesses that take a toll on developing nations. Along with his famous contributions was his feature in the 1985 Live Aid concert, which generated funds to minimize threats of climatic and AIDS-related dangers.
Moreover, Bowie went on to utilize his live performing skills through another charitable opportunity, this time in loose hand-in-hand with wife Iman. In 2006, the groundbreaking rock musician collaborated with Grammy-winning R&B musician Alicia Keys. The two artists sung and performed live at a New York concert as part of Keys' nonprofit Keep a Child Alive, an organization that works to rid African children of AIDS and poverty-induced restraints.
Iman was also involved in the lively event, as she and comedian Wanda Sykes served as hosts of the event's black-tie dinner in celebration of the initiative's planning and success.
It would not be long until Keys and fellow organizers appointed Iman as the initiative's Global Ambassador for Keep a Child Alive after noting the model's sincere elements in raising awareness for multiple pandemics across the globe. With a newly designated role, Iman launched not only additional fundraisers to support a variety of causes but also programs like "I am African," a tool utilized to build awareness of the AIDS pandemic greatly affecting her native Somalian homeland.
As years have progressed, nothing has stopped this power couple's path to giving back to those in need. With social media tools redefining the nature of networking for a passionate cause, Iman and David Bowie still remain fixated and up-to-date on endorsing as many foundations as they possibly can to improve the world.
– Jeff Varner
Sources: Philly.com, Billboard, CNN, Slice, Iman Cosmetics, Getty Images
Photo: ENCA
https://borgenproject.org/wp-content/uploads/logo.jpg
0
0
Borgen Project
https://borgenproject.org/wp-content/uploads/logo.jpg
Borgen Project
2015-07-21 13:03:25
2020-07-09 16:21:36
David Bowie and Iman's Philanthropic Activities