10 Facts About Myanmar Refugees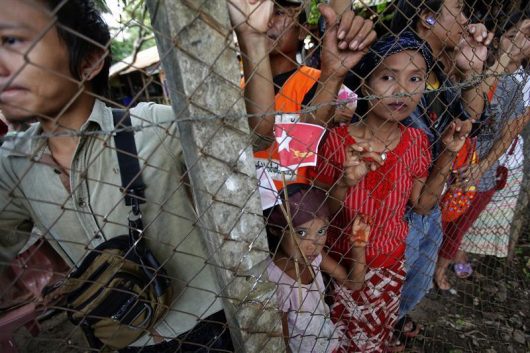 Myanmar was previously known as Burma until the ruling junta changed the country's name in 1989. It is an ethnically and religiously diverse country with a history of conflict and violence. This history has resulted in thousands of refugees and internally displaced persons (IDPs) fleeing and/or settling in Myanmar's borders. Here are 10 facts about Myanmar refugees:
According to The Border Consortium, a total of 108,407 refugees fleeing political upheaval, civil strife and economic stagnation in Myanmar were living in refugee camps along the Thai-Myanmar border as of April 2015.
In addition to refugees, the IDMC estimates that there were up to 662,400 Internally Displaced Persons (IDPs) in Myanmar as of March 2015.
The Rohingya Muslims are Myanmar's largest group of stateless people and number 1.45 million as of 2014.
The government does not recognize the Rohingya as a "national race" and has stripped them of their citizenship.
Under the Rakhine State Action Plan that was drafted in October 2014, the Rohingya must demonstrate their family has lived in Myanmar for least 60 years to qualify for a lesser naturalized citizenship and the classification of Bengali, or they are put in detention camps and face deportation.
Bangladesh struggles to accommodate the 29,000 Rohingya Muslims living as refugees in Cox's Bazar.
None of the countries harboring large refugee populations from Myanmar have signed the 1951 Convention Relating to the Status of Refugees. Several countries changed their policies in order to cultivate better relations with the Myanmar government.
As a result of not signing the Geneva Convention, refugees found outside refugee camps in Thailand are treated the same as illegal immigrants.
Thai authorities have not allowed the United Nations High Commissioner for Refugees to register more than a few refugees since 2006. Without registration, refugees cannot apply for resettlement or for most university scholarships abroad.
Mae La is the largest refugee camp in Thailand. Established in 1984, the camp houses 50,000 refugees. Although over 90 percent of the refugees are Karen, Mae La is the most ethnically and religiously diverse camp along the Thai-Myanmar border. The Border Consortium—a union of 11 international NGOs that provide shelter, food and non-food items to Myanmar refugees—oversees and runs the camp.
While these 10 facts about Myanmar refugees are not an exhaustive list, they provide insight into how thousands of underprivileged people live in a system that seems to work against them.
– Alexis Pierce
Photo: Reuters
https://borgenproject.org/wp-content/uploads/logo.jpg
0
0
Borgen Project
https://borgenproject.org/wp-content/uploads/logo.jpg
Borgen Project
2016-07-26 01:30:18
2020-06-18 13:34:50
10 Facts About Myanmar Refugees