WASH United: Working to Achieve Clean Water, Sanitation and Hygiene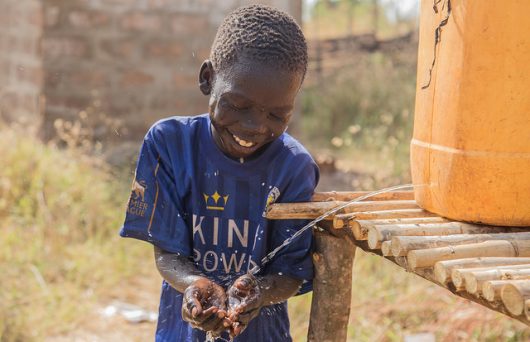 Undernutrition is a major cause of disease and death that affects millions of people worldwide. A direct cause of undernutrition is disease indirectly related to factors such as contaminated drinking water and poor sanitation and hygiene. WASH United aims to fulfill the basic human right to clean drinking water and sanitation as recognized by the United Nations General Assembly in 2010.
Water, Sanitation and Hygiene the Building Blocks of Global Health
Since 2010, the United Nations International Children's Emergency Fund (UNICEF) has been working to improve water, sanitation and hygiene services and practices in more than 100 countries worldwide. Last year, nearly 14 million people were provided with access to clean water and more than 11 million with basic toilets.
WASH is the unified term for water, sanitation and hygiene. Although each is a separate issue, success in one category is dependent on the other. For example, without clean water, basic hygiene is not possible; without toilets, sources of water become polluted. By focusing efforts on these dependent factors, WASH United hopes to increase the awareness of and access to clean drinking water, sanitation and hygiene.
Water
Each year 800,000 children are killed by diarrhea caused by dirty water, poor sanitation and lack of hygiene skills. This is more than the number of children killed by AIDS, malaria and measles combined. UNICEF reports that the risk of diarrhea can be reduced by almost 50 percent by washing hands with soap before eating and after using the toilet. WASH United works to make hand washing a habit for everyone through interactive games and positive messaging.
Sanitation
Worldwide, 2.4 billion people lack access to a hygienic toilet while 946 million have no access to a toilet of any kind. Instead, they use open places in and around their communities such as railroad tracks and ditches. Even with access, there are tens of thousands of toilets in South Asia and sub-Saharan Africa that are abandoned and unused. WASH United strives to change attitudes through innovative tools around sanitation and create a demand for toilets. 
Hygiene
A 2013 UNICEF study reported that one out of three girls in South Asia knew nothing about menstruation before starting their period, while 48 percent of girls in Iran and 10 percent of girls in India believed that menstruation is a disease. WASH United aims to educate women about important components of hygiene during menstruation and work closely with communities to motivate positive practices. 
To date, WASH United has reached 500 million people through campaigns and media work and has trained 200,000 children in good WASH behavior. However, there is still work to do. WASH United aims to achieve water, sanitation and hygiene for all people by 2030, and aspires to reach the World Health Assembly global nutrition targets by 2025. These targets include: 
A 40 percent reduction in the number of children under five years of age who are stunted
A 50 percent reduction of anemia in women of reproductive age
A 30 percent reduction of low birth weight
Increase the rate of exclusive breastfeeding in the first 6 months up to at least 50 percent
Reduce and maintain childhood wasting to less than 5 percent
Although there is still much to achieve, WASH United has already impacted the lives of millions. To date, it has reached 500 million people through campaigns and media work and has trained 200,000 children in good water, sanitation and hygiene behavior.
– Anne-Marie Maher
Photo: Flickr
https://borgenproject.org/wp-content/uploads/logo.jpg
0
0
Borgen Project
https://borgenproject.org/wp-content/uploads/logo.jpg
Borgen Project
2018-05-20 07:30:50
2019-11-28 14:46:58
WASH United: Working to Achieve Clean Water, Sanitation and Hygiene