A Need for Change: Top 10 Facts About Poverty in India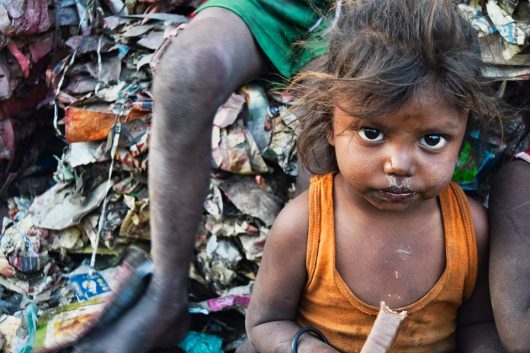 India is a South Asian country with one of the fastest growing economies and yet still a large number of inhabitants living in poverty.
The Top 10 Facts About Poverty in India
According to a survey done by CNN, only five percent of India's surveyed population made enough to pay taxes, 2.5 percent owned a vehicle and less than 10 percent had a salaried job.
With such economic struggles, literacy is extremely uncommon in rural areas. Only 3.5 percent of students in India graduate and about 35.7 percent of the population doesn't know how to write or read.
In 2012, there were 270,000,000 — or one in every five —  impoverished Indians; 80 percent of these poor Indians lived in rural areas.
Twenty-one percent of poor Indians have restrooms, 61 percent have electricity and only 6 percent have tap water.
With poverty affecting Indian lives so much, 38 of every 1,000 babies born in India die before making it to their one-year mark.
The rapid population growth in India is one of the major reasons for poverty within the country. The growth of the population exceeds the rate of growth in the country's overall income. This heavily affects the poor because population growth creates a need for an increased labor supply, which is a profession with low wage rates.
One of the top 10 facts about poverty in India includes climatic conditions and the effect such impacts have on poverty within the country as a whole. India's climate is extremely hot, which makes it difficult for Indians to work. This inability, in turn, causes production to suffer and therefore, the income of Indians to suffer as well. Also, there are numerous amounts of floods, earthquakes and cyclones that cause extreme damage to agriculture and infrastructure; all of these conditions make it difficult for people living in poverty.
"Your Article Library" explains that low levels of investment create low income and that the circle of poverty is seemingly never-ending within India.
Business Today explains that India recently accounted for the largest amount of people living below the poverty line; 30 percent of India's population lives on less than $1.90 a day.
The Huffington Post reveals that 56 percent of Indians (around 680 million people) lack the ability to meet their basic needs. Even the people who are officially above the poverty line (around 413 million people) are still vulnerable to such harsh conditions.
Sooner Rather than Later
With poverty continually taking such a toll on India, it is important to understand that it is a country in need of assistance. Allowing people the ability to see their harsh living conditions is one way to ensure that these top 10 facts about poverty in India improve over time.
– McCall Robinson
Photo: Pixabay
https://borgenproject.org/wp-content/uploads/logo.jpg
0
0
Borgen Project
https://borgenproject.org/wp-content/uploads/logo.jpg
Borgen Project
2018-02-25 01:30:26
2019-08-21 10:59:01
A Need for Change: Top 10 Facts About Poverty in India