Accomplishments of The Global Partnership for Education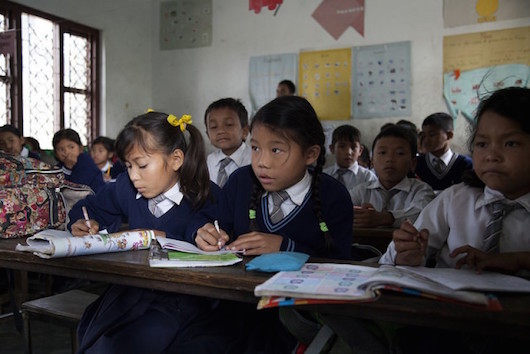 2015 has been an active year for global education. The fourth Global Goal in the new Global Goals for 2030 focuses on education. But according to Results, The Global Partnership for Education (GPE) is the only international partnership exclusively dedicated to achieving education for all.
The Global Partnership for Education had five major accomplishments over the course of 2015.
1. GPE welcomed Bangladesh and the Republic of Congo as new partners.
Bangladesh became the 60th developing partner of the GPE. As a GPE member country, Bangladesh is now eligible for a Program Implementation Grant worth $100 million dollars over the course of three years. The Congo is the 61st developing country partner of GPE. The GPE is working with the Congo to give all children a basic ten-year education.
2. GPE calculated that it takes only $1.18 to pay for a day of primary to secondary education for a child in a developing country.
This calculation comes from The Education for All Global Monitoring Report and IMF figures for historical US inflation. According to GPE, 88 percent of $1.18 will be provided by developing countries themselves, making the international funding gap just 14 cents a day per child.
3. GPE received new funding from Canada.
Canada decided to double its contribution to the GPE. They agreed to donate $98 million dollars during the 2015-2018 replenishment period. More than half of GPE's financing to countries in 2014 went to conflict-affected countries.
4. GPE allocated more than $245 million in grants and distributed more than $400 million.
GPE approved $245 million in grants fro Bangladesh, Mozambique, Nepal and Rwanda. It plans to use this money to provide imperative funding and momentum toward quality education for children.
5. GPE adopted a new strategy for the next five years.
The new strategic plan sets out contributions that GPE will make to focus on the Global Goal for education. The new results framework will be used to measure achievements and ensure accountability for results. GPE is invested in delivering the Global Goal of quality education for all.
GPE hopes to continue to make a positive impact in global education and to reach the global education goal. Their new strategy for 2016 identifies their biggest challenges to achieving quality education for children around the world.
– Jordan Connell
Sources: Global Partnership for Education, Results
Photo: Global Partnership for Education
https://borgenproject.org/wp-content/uploads/logo.jpg
0
0
Borgen Project
https://borgenproject.org/wp-content/uploads/logo.jpg
Borgen Project
2016-01-22 01:30:34
2020-06-24 13:15:38
Accomplishments of The Global Partnership for Education