MADE51 Empowers Refugee Artisans Globally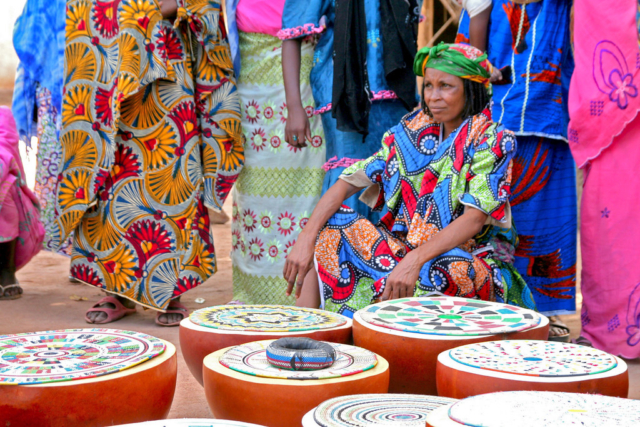 MADE51 is a global initiative created by the U.N. Refugee Agency (UNHCR) and the World Free Trade Organization to showcase the creative talents and skills of refugees while giving them an opportunity to earn an income by selling their art. MADE51, which stands for Market Access, Design and Empowerment for Refugee Artisans, connects artisans with markets in order to economically empower artisans and help them rise out of poverty. U.N. Deputy High Commissioner for Refugees Kelly Clements states that "Rather than viewing millions of refugees across the globe as a burden, MADE51 sees untapped talent and potential that, if unlocked, can directly benefit" refugees, host countries and local enterprises.
How MADE51 Works
MADE51 gives refugees the opportunity to build sustainable livelihoods by selling "artisanal home decor and accessories." Sales from MADE51 products allow "refugees to contribute to their host country's economy" and reinforces their ties with society. Instead of seeing refugees as a burden, MADE51 gives them a platform to showcase their talent.
The initiative connects artisans with local social enterprises in Africa, Asia and the Middle East. According to Herbert Smith Freehills, "International trade in artisan crafts is now valued at over $32 billion per year, with 65% of handicraft exports coming from developing countries."
MADE51 promotes economic inclusion using an innovative marketing solution. It identifies refugee artisans and gives them a platform to showcase their traditions and skills by helping them form partnerships with local businesses. Then, the initiative brings in its partners' technical expertise for branding, marketing, capacity building and more.
The UNHCR also conducts assessments to make sure partner businesses follow UNHCR principles and Fair Trade standards. Fair Trade principles ensure that workers receive adequate compensation while working in a safe environment. MADE51 embodies the spirit of the UNHCR's Global Compact on Refugees.
A lot goes into the success of the MADE51 collection. MADE51 receives help from strategic partners in product design, integrated technology, branding and marketing.
MADE51's Impact
Other than providing a way for refugees to make a living, the initiative presents an opportunity to show solidarity with refugees. MADE51 "demonstrates the talents that refugees possess and how if given the opportunity, they can become positive contributors to societies and economies."
MADE51 gives refugees the chance to honor and preserve their heritage and culture through art. Often the only things refugees can take with them when displaced are intangible skills, craftsmanship, knowledge and traditions. The collection shares these skills with the world while allowing refugees to "regain economic independence." MADE51 is also a way of telling the human story of refugees rebuilding their lives from scratch.
How to Help
As a global collaborative initiative, MADE51 relies on the help of strategic partnerships. It is currently seeking partners in several areas such as retail branding, design and logistics. Individuals can also play a role in uplifting and empowering refugees by supporting the collection. For example, individuals can promote the collection on social media platforms, utilize word-of-mouth marketing and purchase items from the collection. The collection is diverse, containing protective face masks, towels, aprons, laptop sleeves, key chains, travel bags and more.
According to the UNHCR, at the close of 2020, "there were 82.4 million forcibly displaced people in the world." More than 25% of this population was made up of refugees. MADE51 presents an inspiring tale of the most vulnerable and disadvantaged people using their creative skills to rebuild their lives while simultaneously sharing and preserving their culture.
– Ariel Dowdy
Photo: Flickr
https://borgenproject.org/wp-content/uploads/logo.jpg
0
0
Jennifer Philipp
https://borgenproject.org/wp-content/uploads/logo.jpg
Jennifer Philipp
2021-09-09 07:30:04
2021-09-09 01:07:53
MADE51 Empowers Refugee Artisans Globally