The Global Economy Is on the Rise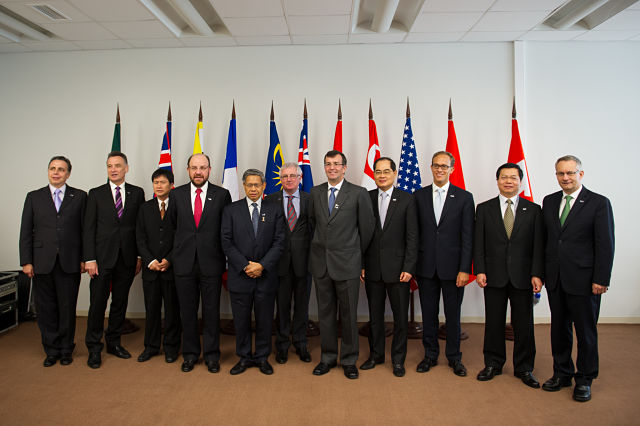 People around the globe experienced the mania of the Dow Jones' historic low in February 2018. Some traders even questioned if this was a sign of a global stock market crash. But as the U.S. stock market recovers from its volatile hijinks, global trade as a whole is rising, and rapidly. This rapid rise has many economists optimistic that the global economy is on the rise as well.
The global economy is driven by trade. As international trade rises, so do technological developments as nations tear down trade barriers. According to a report by the CPB Netherlands Bureau for Economics Policy Analysis, the volume of imports and exports grew by 4.5 percent in 2017. To gain perspective, this is a significant spike from a stagnant 1.5 percent rate of growth the previous year, which was the lowest since the global financial crisis in 2007-2008.
Globalization a Reason Why the Global Economy Is on the Rise
The world is changing. Globalization moves the market, just as we move through our interconnected culture of technology, digital communications and transportation. As markets evolve, global poverty is decreasing, while the global economy is on the rise.
Old business practices are being phased out, technology is replacing hard labor and workers are rising to higher levels of efficiency. Automation is shifting the way goods and services are distributed, easing mass production.
Nations have outsourced businesses to developing nations, partly to reduce wage costs. Yet, business process outsourcing provides an oasis of income for people in developing countries such as India, the Philippines and Malaysia. In many places, this opportunity to earn a living would not be possible without outsourcing.
As technology advances, the market shifts and standards of living rise across the globe. Developing countries who have broken trade barriers have developed competitive advantages in the production of certain products. Ukraine, for example, is known as the breadbasket for its richness in wheat and farmland. Venezuela is known for its vast oil supply and China's factories are known for producing more than half of the world's clothing.
Tariff Reduction Has a History of Success in Developing Countries
History reveals that nations who open their economies to trade with the global economy experience faster growth and poverty reduction. During the past 30 years, global poverty has been cut in half. Studies show that developing countries that lowered tariffs in the 1980s experienced quicker economic growth in the 1990s compared to those that did not. Tariffs, or taxes on imports and exports between sovereign states, are often viewed as barriers affecting the global economy.
Developing nations have tariffs that are three to four times higher than industrial countries, and they are even higher on agriculture. Average tariff protection in agriculture is about nine times higher than in manufacturing. This can undermine a developing country's agricultural sector and exports by depressing world prices.
The outlook for the global economy depends on these countries tearing down trade barriers. Yet, political decisions in developed countries are affected by trade barriers as well. In Venezuela's case, the U.S. has imposed investor-related sanctions on Venezuelan oil to pressure its government to address its humanitarian crisis of inflation and starvation. According to Reuters, U.S. officials are not ruling out a complete ban on Venezuelan oil in order to send a strong message to its dictator, Nicolás Maduro.
Trade Wars Are Common and May Not Affect Global Trend
China's trade practices have also affected U.S. trade on a political level. Elon Musk, the CEO of Tesla, recently called on U.S. President Trump for equal and fair rules for cars, citing China's pressure on foreign businesses to partner with Chinese carmakers before manufacturing in China. Musk noted China's 25 percent import duty on cars compared to America's 2.5 percent duty. President Trump proposed a sweeping tariff on steel and aluminum on March 8, 2018, which characterizes the trade wars.
Skeptics believe this political decision could take the global economy down the rabbit hole. Others are bracing for a global crash for different reasons. "I still believe that we'll face a financial crisis within the next two years if we don't solve the debt problems," said Bjorn Ritschewald, a civil engineer with the government Road and Traffic office in Bremen, Germany, a city popular for its maritime trade. "Almost every country spends more than its income. Actually, I don't know any country that spends less than what it takes in."
"Waves in trade flow are common, but it depends on the goods," Ritschewald told The Borgen Project. "You can't just look at the financial numbers. You also have to look at the real amount of goods and which kind of goods are being sold." World markets experienced the rippling effects of the Dow Jones' plunge. The plunge is characterized as market correction, a phenomenon where unusual market success sparks panicked selling, driving market drops across the globe.
On the other hand, many economists believe that the global economy is on the rise. Their confidence stems from positive trade initiatives such as the Trans-Pacific Partnership, a free trade agreement set to be signed by 11 countries in March. The trade wars and other trade barriers are pitfalls that affect the global economy. However, with trade growth booming, there is much optimism in the air about a healthy global economy in the future.
– Alex Galante
Photo: Google
https://borgenproject.org/wp-content/uploads/logo.jpg
0
0
Borgen Project
https://borgenproject.org/wp-content/uploads/logo.jpg
Borgen Project
2018-03-24 01:30:35
2019-11-04 00:44:58
The Global Economy Is on the Rise