6 Facts About Healthcare in Pakistan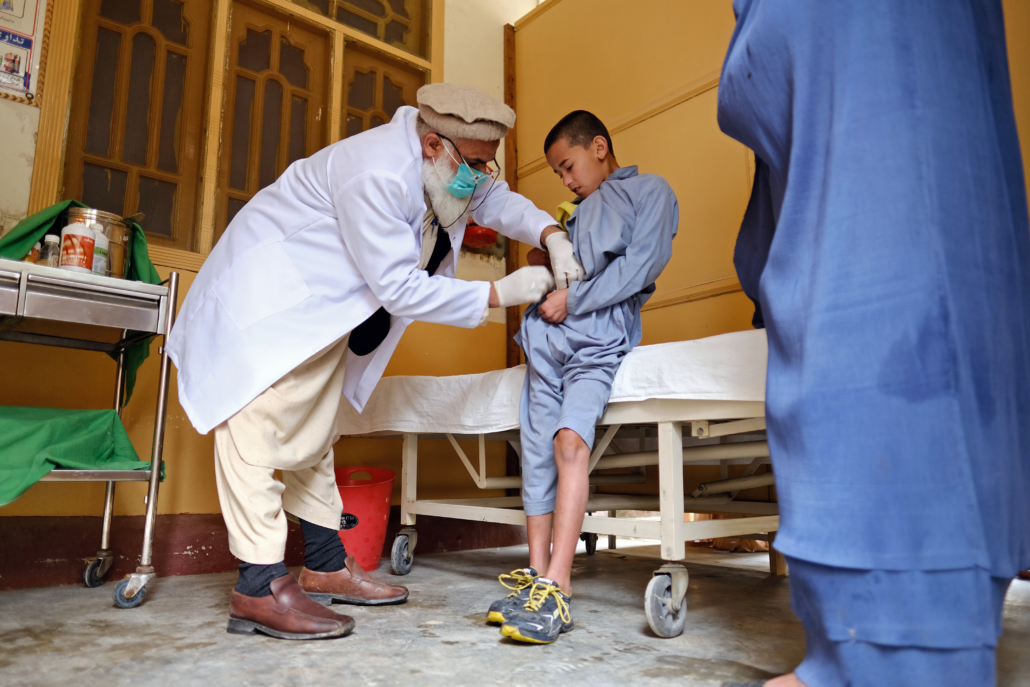 In a study that The Lancet conducted, healthcare in Pakistan currently ranks 154th out of 195 countries in terms of overall system performance. As a developing country with a mere 2% of its GDP allocated for total health expenditures, Pakistan struggles to maintain a proper healthcare system with regard to quality and accessibility.
Pakistan's numerous cases of communicable and vaccine-preventable diseases highlight its struggling healthcare system. Viral hepatitis, dengue, tuberculosis, malaria, typhoid, HIV and cholera have long been leading causes of death. They are the result of overpopulated cities, poor sanitation, unsafe drinking water and inadequate socioeconomic conditions.
Pakistan has one of the lowest amounts of immunized children, with overall vaccination coverage of just 60%. The result is a high newborn mortality rate: 69.3 deaths per 1,000 live births. Moreover, while the rest of the world is free from polio, experts still consider the disease as an endemic in Pakistan. Documentations determined that there were nearly 150 polio cases in 2019. With these alarming statistics in mind, here are six facts about healthcare in Pakistan.
6 Facts About Healthcare in Pakistan
Healthcare in Pakistan includes both private and public sectors. The private sector serves approximately 70% of the population. Private hospitals and healthcare institutions consistently outperform their public counterparts, as measured by the overall quality of healthcare and patient satisfaction.
A common misconception is that healthcare services in the public sector are free of charge to Pakistani citizens. This is not the case, as 78% of the population continues to pay for healthcare out of their own pockets.
Healthcare in Pakistan has been a focal point after the country signed the U.N. Millennium Development Goals (MDGs). Pakistan began to initiate healthcare programs, establishing both Basic Health Units as well as Rural Health Units. Basic Health Units are assigned to NGOs, who manage the day-to-day operations, administer medicine and overlook the facilities.
Reports estimate that there are roughly 175,000 doctors registered to serve the population. However, many Pakistani doctors choose to practice abroad due to poor service structure, increased workload, lack of funding and a rise in hostility by some. Moreover, many female doctors have stopped practicing due to family and social compulsions. Taking into account all these factors,  the doctor to population ratio stands at one doctor for every 1,764 persons. For adequate population coverage, Pakistan needs at least two doctors for every 1,000 persons.
Healthcare in Pakistan has gradually improved over time. Currently, 92% of the rural population and 100% of the urban population have access to health services. Such improvement has been a direct result of Pakistan meeting the MDGs. Despite measures to increase the quality of healthcare facilities, most of the population prefers to consult private doctors and practitioners.
Pakistan continues to commit to the MDGs in order to eradicate a multitude of preventable diseases. The introduction of immunization programs, such as the Expanded Program on Immunization (EPI), has increased vaccination coverage in Pakistan from 5% to 84%. EPI partnered with the Global Alliance for Vaccines and Immunization (GAVI), a global health organization dedicated to increasing immunization in low- and middle-income countries. With this partnership, countless people are working to eradicate vaccine-preventable diseases, such as measles, polio and neonatal tetanus.
With the arrival of COVID-19, Pakistan's healthcare system is under immense pressure and is struggling to deal with the thousands of cases arriving each day. Frontline workers are taking the brunt of the virus. An estimated 3% of the total cases in the country consist of healthcare workers. Medical professionals are resorting to strikes and protests over the lack of protective gear necessary to safely treat patients.
In light of the unrest, Prime Minister Imran Khan announced new healthcare reforms to fix the faults of the health sector. The reforms allocate $300 million to pay for additional ventilators and other medical equipment. Additionally, major cities are setting up isolation centers to increase hospital capacity for infected patients.
These six facts about healthcare in Pakistan determine that the country will need to radically transform its health system performance in the following years in order to confront outbreaks that continue to threaten the population. The World Health Organization has recommended that Pakistan's Ministry of Health increase healthcare expenditures to 5% of its GDP. Doing so would not only put an end to controllable diseases, but it will also ensure that the healthcare system will be able to deal with dangerous outbreaks in the future.
–  Abbas Raza
Photo: Flickr
https://borgenproject.org/wp-content/uploads/logo.jpg
0
0
Kim Thelwell
https://borgenproject.org/wp-content/uploads/logo.jpg
Kim Thelwell
2020-07-01 01:30:25
2020-06-24 12:01:15
6 Facts About Healthcare in Pakistan