Addressing High Rates of Child Poverty in Scotland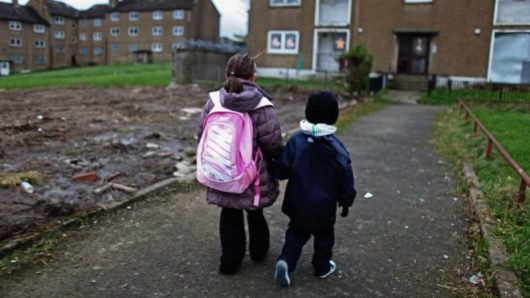 Scotland is currently struggling with high levels of child poverty affecting about 25 percent of children. Living in poverty has been shown to have a negative impact on a child's school performance and overall health, making them more likely to remain in poverty throughout their life. Unfortunately, the rates of child poverty in Scotland have been increasing in recent years, so in 2017, the government was prompted to take action.
The Impact of Poverty on Children
When a child grows up in poverty, they are predisposed to both health and education issues. By the time a child in poverty reaches five years old, they are already underperforming in comparison to their peers from higher income homes, with an education discrepancy of 10 months in problem-solving and 13 months in vocabulary. Similarly, by the age of three, children in poverty are more than twice as likely to develop a chronic illness. In addition to problems with physical health, children in poverty are prone to mental health issues as well.
These risks not only have a significant impact on an individual's future and overall wellbeing but also create a financial burden on the community. Child poverty is estimated to cost The United Kingdom £29 billion every year, according to a 2013 study. This is a combination of costs to the health care system, the economy and policy efforts. Reducing the rate of child poverty in Scotland would not just improve the lives of the individuals afflicted but also the state of the country's economy as a whole.
According to The Joseph Rowntree Foundation's report "Poverty in Scotland 2018," around 230,000 kids suffer from poverty. This is caused by a number of factors, including unemployment and underemployment, lack of benefits, high housing prices, inability to afford childcare and single-parent households. Most children who suffer from child poverty in Scotland have parents that are unable to work full time because they can't afford childcare or one of them is disabled. Additionally, 36 percent of impoverished children live in a single parent home. While rates of child poverty in Scotland had been decreasing since the 1990's, as of 2011 they have been on the rise again.
The Child Poverty (Scotland) Bill
The government has taken steps towards solving the issue of child poverty in Scotland by unanimously passing The Child Poverty (Scotland) Bill in 2017. This legislation requires that, by 2030, the number of children living in relative poverty be reduced from one in four to one in 10. The number of children living in absolute poverty must also be decreased from 21 percent to 5 percent, along with a number of other targets. The Child Poverty (Scotland) Bill is a meaningful first step towards eradicating child poverty from the region and demonstrates the government's dedication to the issue.
There are a number of effective solutions to address child poverty in Scotland. Making changes to the benefits system, ensuring living wages and increasing preschool education and childcare should be prioritized. Also, the existing barrier to education needs to be removed through programs offering school clothing grants, transportation, free lunches and financial assistance for class trips.
The high rates of child poverty in Scotland are a serious concern for the country, but there is hope for improvement. The government must implement practical solutions to reach its targets while charity organizations continue to offer aid to those in need.
– Georgia Orenstein
https://borgenproject.org/wp-content/uploads/logo.jpg
0
0
Borgen Project
https://borgenproject.org/wp-content/uploads/logo.jpg
Borgen Project
2018-11-11 01:30:46
2019-05-21 14:46:01
Addressing High Rates of Child Poverty in Scotland