The 5 Best Careers for Fighting Poverty and Making a Difference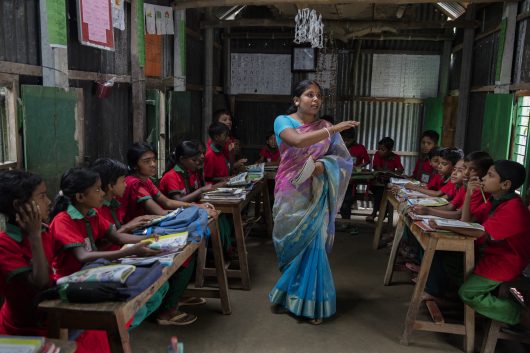 Many people are looking to make a difference these days through volunteer work, making donations and voting, but there are also many careers that can make a huge impact. The best careers for fighting poverty may be surprising to some, but each makes a difference in the lives of others.
Working in these fields makes the world a better place and improves the lives of the poor:
Teachers


Ki

ds spend approximately 1,200 hours annually in the classroom. A teacher's influence is vast and encompasses the education, mental health and safety of the children they teach. Education is vital in the fight against poverty and provides students with the tools necessary to make a living and gain the schooling needed to avoid poverty.
It is important more than ever that female teachers gain employment in developing areas. This allows girls in culturally strict regions to be able to attend school, feel safe and receive gender equality in the classroom.
Social Workers
Those in vulnerable situations are able to receive support through their social workers, such as family counselors. Social workers work to improve the mental health of those seeking counsel, and help diagnose emotional issues, so that they can receive treatment and progress professionally.
Doctors and Nurses
Working in one of the best careers for fighting poverty, those in the medical field have the power to affect the health of people in poorer communities. They can even opt to go abroad with volunteer groups or Doctors Without Borders during seasons they choose.
Doctors and nurses can also help vaccinate those in developing countries, provide health counsel and improve the health conditions of the community they work in. Citizens in good health are less likely to remain or fall into poverty in the first place. With good health, they are able to work full time, participate in the economy and attend school.
Entrepreneurs
People who start their own businesses are able to address issues that may not have already been addressed by their communities or nations yet. Entrepreneurs have the power to not only create jobs and positively impact their local economies, but are also able to create influential movements and businesses.
Lawyers


Lawyers are able to participate in pro-bono work, providing legal assistance to those who would not otherwise be able to afford the help. They are also able to prevent those wrongly accused from going to prison, which stimulates the economy and keeps people in the work force and out of crime.
There are many influential jobs that can reduce poverty in communities, but these are the best careers for fighting poverty that have the widest reach. The average person spends 90,000 hours at work in their lifetime and to be able to make those hours count is an impactful feat, accomplished by those who care enough to make a career out of making a difference.
– Emily Degn
Photo: Flickr
https://borgenproject.org/wp-content/uploads/logo.jpg
0
0
Borgen Project
https://borgenproject.org/wp-content/uploads/logo.jpg
Borgen Project
2018-04-12 01:30:08
2019-11-10 10:22:43
The 5 Best Careers for Fighting Poverty and Making a Difference