Top 10 Facts About Living Conditions in Syria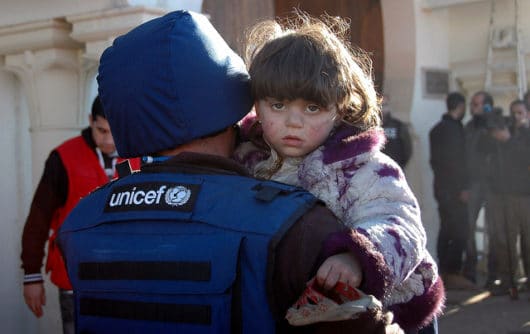 Since the Arab Spring that occurred in March 2011, Syria has been embroiled in a civil war.
In the preceding seven years, the living conditions for the people of Syria have deteriorated significantly and thrown almost 80 percent of the country's population into poverty.
In the article below, top 10 facts about living conditions in a war-torn country of Syria are presented.
Top 10 Facts About Living Conditions in Syria
The number one threat to the people living in Syria is the high level of violence. In a complex civil war that involves many different participants, civilians have been caught in the crossfire. Children often fare the worst, facing violence, exploitation and recruitment, death and injury. The people of Syria endure bombings, extrajudicial killings, detainment, torture and chemical attacks that have led to the deaths of over 500,000 people. Some improvement has been made, however, by providing more investigative mechanisms like the work of the Syria Justice and Accountability Centre (SJAC) to document and help prevent the violence and hold people accountable.
The war has forced more than 6.6 million people to become internally displaced, leaving their homes in order to escape violence. Oftentimes, Syrians take shelter in informal settlements in abandoned buildings with extended family members. UNHCR Shelter already has over 400,000 displaced people and is still working to provide official collective shelters and emergency shelter interventions in order to reduce suffering and decrease displacement.
In Syria, 10.5 million people have insecure access to food or are unable to meet their basic food needs. There are a number of factors that contribute to this, such as the large numbers of displaced people, damaged or detained agriculture land and severely high food prices. The United States alone has provided over 2.7 billion dollars in emergency food assistance to Syria since 2012, which has helped to provide gravely needed aid.
Lack of water has been a major issue throughout the Syrian civil war as 14.6 million people need access to clean water. All sides of the war have held water hostage, but it has left many civilians as collateral damage. Due to damaged infrastructure, there is severely limited running water, forcing Syrians to be almost entirely dependent on foreign aid.
Due to the conflict, Syria's once priority on education has fallen by the wayside. One in four schools are no longer operational, and over two million children are not in school. However, strides of progress have been made. Five million children are currently attending schools in Syria. Through donors and brave teachers, these children have been able to receive schooling, though more work needs to be done.
The trauma of war is pervasive and can severely impact mental health. In Idlib alone, 90 percent of the population suffers from depression due to their difficult living conditions. For children, being out of school can impact their mental health. In combating this, the No Lost Generation put forward by UNICEF helps 4.2 million children, providing psychosocial support and helping them return to normalcy by getting them back into schools.
The major difficulty in maintaining the physical well-being and health of Syrians is the inability of health workers to access people in need. Over 200 hospitals have been targeted, making Syria one of the most dangerous places in the world for health care workers. More than 11 million people are in need of health assistance. The WHO has managed to deliver 14 million treatments, showing how, despite the danger, many international health workers have not given up.
Discrimination has also played a role in the living conditions in Syria. It is most significant for the ISIS-held areas, where at least 25 men have been murdered after being accused of homosexuality. Women are severely restricted, mostly by their freedom of movement. The religious minority of Yazidi girls have also been tortured or sexually enslaved.
Like many other countries across the world who endure poverty, priorities have to be shifted and culture is lost along the way. ISIS has also specifically targeted six sites of cultural heritage, damaging and endangering many parts of history. This is considered to be a war crime and has led to the organization ALIPH raising millions of dollars to protect these sites.
The Assad regime continues to be one of the main perpetrators of violence and human rights abuses against the Syrian people. Over 12,000 people have been killed while being detained by the government. In coordination with Russia, the Syrian government has also used internationally banned tactics such as cluster munitions, incendiary weapons and chemical weapons. For those living in Syria, the government poses a threat, and the hope for change is an end to the war and the installation of a new democratic government.
The top 10 facts about living conditions in Syria are shown to be some of the harshest in the world. Embroiled in a civil war that has lasted for seven years, millions have been thrown into poverty, face violence and lack access to basic needs required for life.
However, the people of Syria are not alone. International groups have not given up on the people in Syria and continue to offer aid and assistance to all those in need, despite the danger and risk involved.
Because that is what it will take to end the immense human suffering borne out of war- courage and a willingness to never give up.
– Brenna Boytim
Photo: Flickr
https://borgenproject.org/wp-content/uploads/logo.jpg
0
0
Kim Thelwell
https://borgenproject.org/wp-content/uploads/logo.jpg
Kim Thelwell
2018-12-27 07:30:03
2019-05-16 14:22:09
Top 10 Facts About Living Conditions in Syria