Marathon Stars to Join Kenya Peace March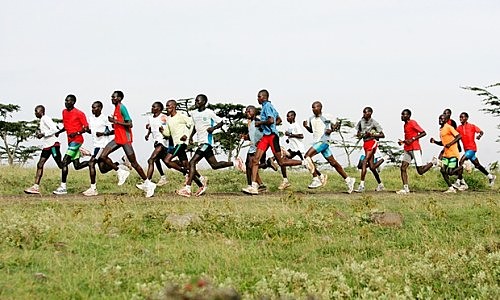 Aegis Trust hopes to unite the youth of Kenya and to inspire those of Africa to end the violence that is dividing countries. In the last two years, 72 of every 1,000 people in Kenya's population of 45 million had a mobile device. Also, 39 out of every 1,000 had Internet access. In a country connecting with the world like never before, popular icons are joining a movement and encouraging others to follow in a peace-building opportunity.
The 522-mile Kenya peace march is scheduled to last 22 days as it takes world-famous athletes, their fans and many others through Turkana, West Pokot, Trans-Nzoia, Uasin Gishu, Elgeyo Marakwet, Baringo and Samburu. The Walk for Peace began July 15, 2015 and will end on August 6, 2015. Big-name contributors include John Kelai, Wilson Kipsang, Tegla Loroupe, Paul Tergat, Ezekiel Kemboi, Irine Jerotich, Andrew Lesuuda, Alex Kipchirchir, Stephen Kiprotich and Douglas Wakiihuri.
A torch lit to signify peace and humanity is to be handed from walker to walker across 25 miles daily. Halie Gebreselassie, who beat the 5,000-meter world record in 1995 by 11 seconds, is a star from Ethiopia who will join the race on its last day in August. In the meantime, others will be leading the peace march.
Commonwealth Marathon champion John Kelai organized the march. He did so in memory of his three uncles, who were murdered in cattle raids. Armed violence, including theft and cattle rustling, has been dividing ethnic groups in the North Rift Valley of Kenya.
Cattle raids have left hundreds dead and have caused 220,000 people to flee their homes. This growing offense is recruiting the country's youth. Boys as young as eight are involved in theft, cattle rustling and other conflicts.
About 37,000 school children have seen violence; statistics were provided by the Kenyan National Union of Teachers. Commissioner Peter Okwanyo of Baringo County has recorded that some children between the ages of 12 and 17 possess illegal weaponry and are participating in violence.
This activity is made possible as boys drop out of school and need to make an income. When opportunities are not available, one way to make money is to raid cattle. When cattle die due to lack of sustenance and extensive drought periods, raids replace the loss.
Since northern Kenya lacks a strong police force, residents are armed to reinforce security. Trading weaponry is made possible thanks to Kenya's neighbors in Somalia and other militants linked to al-Qaeda. The worst attack on police in Kenya's history took place in 2012, when 32 officers were killed in an ambush.
Aegis Trust helped to organize the march for peace. The charity hopes to raise $250,000 to fund the reconstruction of communities affected by violence. Its hope is to recruit 10,000 youth members who are at risk and to protect the North Rift Valley from further damage.
Aegis Trust unites youth and those with conflicting interests in schools and communities by detailing the consequences of violence. The charity built a mobile exhibition that educates young people about the genocide that took place in Rwanda in 1994. The foundation is committed to preventing genocide by investing in rural communities.
Providing a platform for donations and contributions, Indiegogo.com is the place to learn how to participate, donate and fundraise for the cause. It hopes to extend the message enforced by Aegis Trust and the history of Rwanda. Exchanges between Kenyan and Rwandan youth are taking place.
Peace ambassadors, local workshops and community events are conversing about peace-building and communicating the message to others. Professor Lokapel Elim, the chairman of the Steering Committee and principal of Mount Kenya University, describes the march as a means to "experience forgiveness … The experience of speaking out against hatred, the impact that Aegis has, actually will change the thinking of our people."
Athletes are also walking for women's contributions to society and peace advocacy efforts. They hope to attract and hold the attention of religious activists who have the capability to influence peace in their communities. The most important target is the youth of the nation and their capability to sustain peace.
– Katie Groe
Sources: The Guardian, Aegist Trust, Walk For Peace, World Bank, Indiegogo, Reuters, Daily Nation, The Guardian
Photo: The Guardian
https://borgenproject.org/wp-content/uploads/logo.jpg
0
0
Borgen Project
https://borgenproject.org/wp-content/uploads/logo.jpg
Borgen Project
2015-08-09 01:30:55
2020-03-20 14:07:19
Marathon Stars to Join Kenya Peace March