COVID-19 Vaccination in Qatar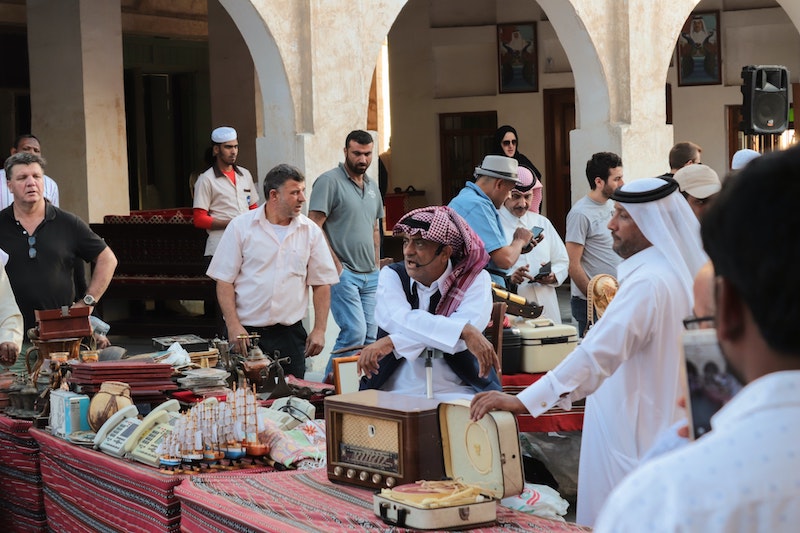 Located on the waters of the Persian Gulf, Qatar has an estimated COVID-19 vaccination rate of about 87%, administering more than 4.9 million doses to its people. It is a population percentage much higher than a number of other countries, including the United States, where just 59% of U.S. citizens are fully vaccinated.
Statistics
Qatar has fewer than 2.5 million inhabitants, more comparable to U.S. states like New Mexico or Kansas. Additionally, it seems that a higher vaccination rate has made a difference when it comes to the Middle Eastern country's efforts to fight COVID-19. Cases are currently at around 8% of what Qatar had during its time of peak infections, dating back to May 2020 when there were a reported 2,300 new infections each day.
According to Qatar's government communications office, the country has reported some 150 new coronavirus cases by late November 2021, with more than 100 of those afflicted ultimately recovering. Since the start of the pandemic, Qatar has reported a total of 242,000 cases, with 239,000 recoveries and 611 deaths.
Qatar's infection rate has climbed a bit in recent weeks. Additionally, while the country's efforts are better than some of its neighbors, like Yemen — which had climbed to 11% of its peak before dropping again — Qatar is behind others, including Bahrain, Saudi Arabia, Oman and the United Arab Emirates, which reported between 1% and 2% of their respective peaks.
Bahrain, for example, averages a little more than 20 new infections per day in a recent week, with 87% of the country completely vaccinated. Saudi Arabia has more than 35 new infections each day with 69% fully vaccinated. Oman is averaging about seven new infections daily with a 59% vaccination rate.
The UAE reported just fewer than 80 new infections each day with a vaccination rate of more than 100%. Yet, Yemen has kept its numbers mostly under control — reporting a half-dozen new infections each day despite just a little more than 1% of its population being fully vaccinated.
Precautions
The U.S. has shared with those living or visiting Qatar the precautions the country has implemented since July 2020 to help limit the spread of the coronavirus there. That includes a little bit of technology — a smartphone app called Ehteraz used for contact tracing.
The country also limits the number of people allowed in cars, and how far athletes can travel to participate in sports. Of course, there are requirements for face masks and social distancing. Anyone not abiding by these rules faces stiff fines and potential jail time.
Qatar is currently in what it describes as its fourth phase of reopening, allowing some gatherings and small groups, and the elimination of masks in open public places, except where otherwise required — like in organized public events, schools and mosques.
Currently, the State Department has a travel heath advisory of Level 3 due to the number of COVID-19 cases in the country. It advises anyone entering the country to be fully vaccinated.
Vaccine Distribution
Despite what appears to be high COVID-19 vaccination rates in Qatar, a study published in the National Library of Medicine in May 2021 suggests about 20% of the country's population does not want the coronavirus vaccine. Surveys occurred in November 2020, before vaccines had received government approvals in many countries, including the United States, and when people were still building knowledge about the safety of the vaccine. The survey involved more than 7,800 adults.
Since then, Qatar has approved the Pfizer vaccine for emergency use and is available to everyone for free. However, the Qatari government recommends those at higher risk — such as the elderly, those with chronic medical conditions, as well as health care workers — are first in line.
COVID-19's Impact on Qatar's Economy and People
The effects of COVID-19 have, for obvious reasons, reduced worldwide travel. This has led to OPEC reporting its lowest demand for oil in 30 years. The heaviest impacted sectors of Qatari society include manufacturing, real estate and transportation. Finance and construction also have experienced a moderate impact on Qatar's expected gross domestic product, according to KPMG International.
How Qatar is Doing its Part
During the Global Vaccine Summit in June 2020, when the coronavirus pandemic was at its worst, Qatar pledged the equivalent of $20 million in U.S. currency to GAVI. GAVI is an international vaccine organization that intends to help underserved countries in the world through the global COVAX initiative.
The money Qatar donated was double its earlier pledge of $10 million that lasted from 2016-2020. The money from 2016-2020 went directly to GAVI with no funding for COVAX. GAVI will distribute the money evenly with $10 million going to funding GAVI's core programs from 2021-2025 and the other $10 million will help finance the COVAX AMC initiative10.
COVID-19 vaccination in Qatar is at remarkably high levels. The vaccine and other measures still in place in the country have dramatically reduced the number of active and new coronavirus cases in the country to a fraction of their peaks in the summer of 2020.
– Julian Smith
Photo: Unsplash
https://borgenproject.org/wp-content/uploads/logo.jpg
0
0
Jennifer Philipp
https://borgenproject.org/wp-content/uploads/logo.jpg
Jennifer Philipp
2021-11-23 15:20:51
2021-11-24 13:11:55
COVID-19 Vaccination in Qatar