Elderly Poverty in Haiti Needs More Attention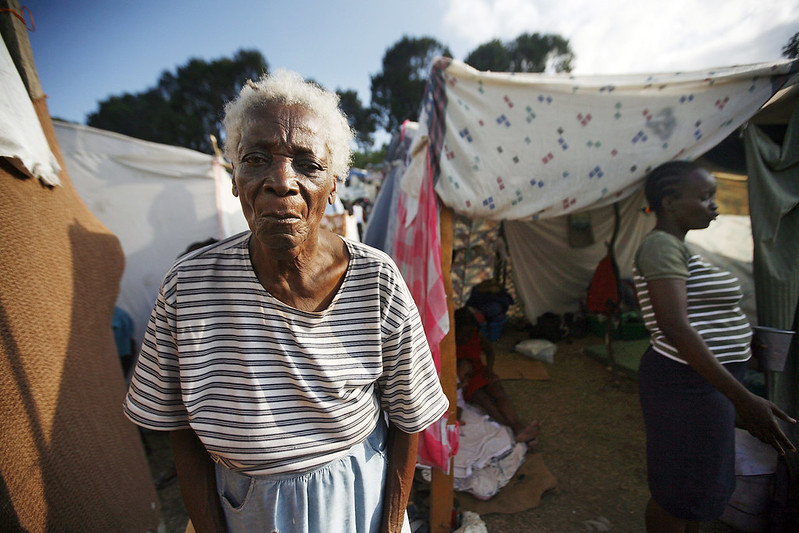 In 2020, the average life expectancy worldwide was 72 years; in Haiti, it was 64 years. The majority of the 500,000 Haitians over age 60 are economically dependent and nearly 80% of the population is forced to survive on less than $2 a day. Haiti is the most impoverished country in the Western Hemisphere and the older generation is not immune to this crisis. Elderly poverty in Haiti is an imperative issue in need of increased advocacy and aid.
Natural Disaster Created Major Need
The devastating earthquake of 2010 demolished Port-au-Prince, which led to about 250,000 deaths and more than 1.5 million displacements. In the aftermath of the disaster, many elderly Haitians went without shelter, proper clothing and sanitation. Age is the main factor contributing to the immense vulnerability of this population after a disaster. Often, the young and healthy receive vital aid during catastrophes rather than the elderly. As a result, the lack of food and water has hit Haitian elders exceptionally hard.
Water can come with a hefty price tag that some cannot afford. Unfortunately, Haitians living in poverty often walk for miles to streams or ponds to obtain water. If that fails, people sometimes resort to "garbage-filled rivers" to supply their households with water for daily use. This can be an impossible task for an elderly Haitian struggling with mobility. The task of accessing clean water is even more of a challenge for those living in Haiti's countryside. A majority of Haitians live in rural areas and almost 70% are deemed "chronically poor" in comparison to only about 20% living in urban areas.
Elderly Poverty in Haiti During COVID-19
In the fight against the COVID-19 pandemic, it is important to remember all groups need assistance. Different segments of society often receive help unequally. Those left behind in terms of aid tend to be the impoverished elderly, many of whom do not have the resources to help protect themselves. An October 2020 assessment found that 98% of older adult Haitians did not know the location of the nearest COVID-19 testing site or treatment facility. Soap and basic sanitary needs are now luxuries. Additionally, almost 90% reported having less than two days' worth of food at home. Further, nearly half say the consequences of COVID-19 are impacting their mental health and worry plagues them most, if not all of the time. The pandemic has worsened the situation of elderly poverty in Haiti amid recovery from the 2010 earthquake.
Aid for the Elderly
Nonprofits and NGOs are stepping up to aid the elderly in Haiti. One nonprofit committed to solving this need is Mission-Haiti, founded in 2005. Within its first year, the organization was able to build the Mission-Haiti Orphanage. The organization then furthered its efforts by opening the SAM Home for the Elderly, a Haitian-led elderly care program. The SAM Home for the Elderly provides elders in need with a safe place to live, access to medical care and three meals a day. Mission-Haiti also began an Advocates for Elders program, which allows anyone to sponsor an elderly Haitian in need for $35 a month.
Increased housing is one of many solutions to ending elderly poverty in Haiti. The World Bank's projects in Haiti provide an array of other types of aid, including sanitation and water. One of the World Bank's water projects has seen major success. In its efforts to build, extend and improve drinking water supply systems, more than 70,000 Haitians in rural areas now have better access to clean drinking water.
In response to COVID-19, the World Bank collaborated with UNICEF and OREPA to set up more than 2,100 hand-washing stations. The organization has also helped to build 50 sanitation blocks in various public schools and markets, helping 26,000 people gain access to sanitation facilities. In the first three months of the pandemic, health care facilities received protective equipment, including 3.5 million masks. Additionally, around 750 oxygen concentrators were installed to aid in treatments for COVID-19 patients. The World Bank has also established awareness campaigns on the importance of good hygiene practices and regular hand-washing to help prevent the spread of COVID-19.
Looking to the Future
The extensive list of adversities that elderly Haitians face will continue to require resilience. However, ongoing activism can eradicate elderly poverty in Haiti. But, in order to achieve this, efforts must be inclusive of all. Increased efforts to end elderly poverty in Haiti will allow the country's life expectancy to continue its upward trend.
– Sarah Ottosen
Photo: Flickr
https://borgenproject.org/wp-content/uploads/logo.jpg
0
0
Kim Thelwell
https://borgenproject.org/wp-content/uploads/logo.jpg
Kim Thelwell
2021-01-14 05:49:42
2022-04-26 06:20:25
Elderly Poverty in Haiti Needs More Attention