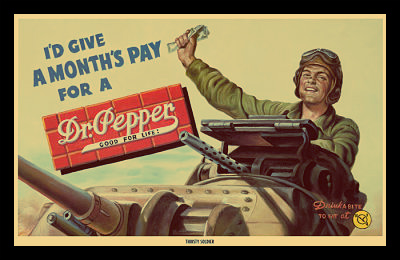 How many of us out there spend loads of money yearly on things that we do not need, or things that are harmful to our lives? Whether it is our weekend alcohol binge drinking extravaganza, our consumption of tabloid magazines, or need for high end clothing? We as Americans can be ultra-wasteful in the things that we consume on a daily basis.
I will be the first to share that I have an addiction, an addiction to the sweet nectar of Dr. Pepper. Every day, I must go to my nearest convenient store and fill up my oversized 44 ounce cup with the perfect mixture of carbonation, artificially created ingredients, caffeine, and ice. Some days I start my day off early with a giant cold glass of awesome.
Other days I end it with another giant cold one, and many other days I have more than one. Sometimes, when I go to fill up another cup, and the mixture is not exactly the way that I like it, I will wait for the convenience store attendant to fix the problem before I leave. Being a daily partaker in this modern day manna from the gods has made me many life long addiction sharing friends, but has negatively become a contributor to my overweight frame, a constant liability to my wallet size, and has been known to alter my mood.
Now let's say I buy one cup of soda daily, at an average of about $1.50 per cup, over one year I would spend $547.50 on soda alone! That is a heck of an amount of money spent on an addiction! Now let's imagine if I were to divert that money toward something more worthwhile? What would be the benefits in my life of choosing to divert my money from something that is harmful, into something that is beneficial for others?
It costs UNICEF less than $1 to vaccinate a child for measles prevention. Imagine the difference that would be made to that one child if I were to forego my cup of soda and donate that $1.50 to UNICEF? Not only would I intake fewer calories, but I would be spending my money on someone in need.
According to The Economist, the global line of extreme poverty currently lies at $1.25 per day. My daily soda alone costs more than the amount on which someone living in extreme poverty lives during one day!
On what other unnecessary things do you spend your money daily? Let us follow the advice of Gandhi and be our own change. I am going to resolve to be better and divert my wasteful spending on soda consumption to donating to charitable causes. I hope you do the same.
 – Travis Whinery